Young people in Greater China are blowing their paychecks every month — even if they don't have to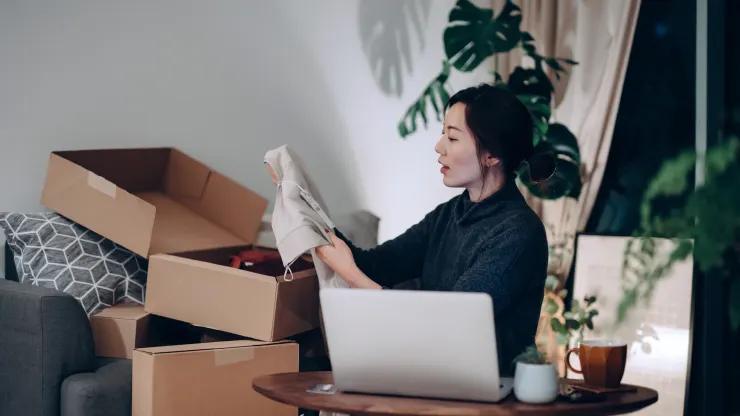 Eric Hsu remembers a time when he was 10 days away from payday and had just $32 left. He had no savings.
"I used the remaining money I had to buy loaves of white bread and I ate that for all three meals until my pay came in," he told CNBC Make It.
"Sometimes I would think, I am not earning little, I would actually think I'm earning an upper-middle income salary. But I still feel really poor every month."
Hsu belongs to a group of people in Taiwan, typically young and single workers, called the "yue guang zu" — the so-called "moonlight clan."
The term describes being broke at the end of each month, or as Hsu describes it, "Money comes in from my left hand and out from the right."
This behavior is very different from their parents', who literally saved every single cent they have.
Chung Chi Nien
HONG KONG POLYTECHNIC UNIVERSITY
The term originated from Taiwan but is now also frequently used in mainland China and Hong Kong to describe the younger generation, said Chung Chi Nien, a chair professor from Hong Kong Polytechnic University.
An estimated 40% of young singles who live in Beijing, Shanghai, Guangzhou, and Shenzhen are living paycheck to paycheck, according to a local report.
"This behavior is very different from their parents', who literally saved every single cent they have. But the younger generation spends every single cent they have," said Chung, who specializes in economic sociology.
The rising cost of living has put more individuals at risk of being in the "moonlight clan," especially those with low income, said Chung.
While Taiwan's inflation rate of 2.4% is much lower compared with many parts of the world, consumer prices and food costs are still on the rise.
For 34-year-old A-Jin, fixed expenses like insurance, utilities and transportation already take up "more than half" of her salary of 30,000 New Taiwan dollars (about $985) a month, she told CNBC Make It.
"I'd be left with NT$10,000 a month for food and other expenses. Eating out now costs around NT$300 a day. There is no way to save," said A-Jin, who works in the service industry.
"If an emergency happens to me, like a car accident — I would not have any cash to deal with it."
Not just inflation
But for some others, it's the "you only live once" mentality that's encouraging them to spend what they can — even if it means taking on debt.
Ever since Hsu started working 10 years ago, the civil engineer struggled to accumulate any savings because he was trying to pay off his student debts.
"Instead of saving leftover money I had at the end of the month, I decided to pay off my debts instead," according to CNBC's translation of his Mandarin comments.
I did let it get out of hand and was like, since I have a credit card, let's purchase a car while I have it.
Eric Hsu
CIVIL ENGINEER
But when a serious knee injury took him out of work for two weeks without pay, Hsu realized he was unable to support himself.
"I thought, since I can use a credit card to pay for things and make my life easier, why not?"
But before he knew it, he had as many as four credit cards and almost 70% of his salary each month was going into paying off such debts — leaving little left to save.
Hsu acknowledged that while half his debt was for necessary daily expenses, the other half was incurred because of his "lifestyle choices and desires.
I did let it get out of hand and was like, 'since I have a credit card, let's purchase a car while I have it,'" 38-year-old Hsu said.
"With online shopping, you also get exposed to a plethora of things you can buy and the fact that you can make purchases so easily did not help."
'Small, but very certain happiness'
The concept of "moonlight clan" reflects the disillusionment that young people feel about life these days, said Chung, the professor. It's much like other terms that have gained popularity in China in the past two years, such as "tang ping" and "bai lan."
"In the context of East Asia, the moonlight clan's parents have experienced very successful industrialization and fulfilled their goals in their lives," he added.
"But that is a different reality for this generation … they see the success of their parents, but simply cannot achieve it. There's a huge gap between expectation and reality."
The "moonlight clan" exists mainly because house ownership is no longer attainable for the young in Taiwan — thanks to the lack of affordable housing, said Chung.
Almost two-thirds of elephant habitat lost across Asia, study finds
Elephants have lost almost two-thirds of their habitat across Asia, the result of hundreds of years of deforestation and increasing human use of land for agriculture and infrastructure, a new study has found.
The Asian elephant, listed as endangered, is found across 13 countries in the continent but their forest and grassland habitats have been eroded by more than 64% – equating to 3.3 million square kilometers of land – since the year 1700, researchers said.
The study, published Thursday in the journal Scientific Reports, compiles the work of several experts led by biologist and conservation scientist Shermin de Silva, a professor from the University of California, San Diego.
The team found that large-scale habitat loss has driven up the potential for conflict between elephants and humans – a situation that shouldn't be accepted as inevitable and one that can be avoided with proper planning.
"My worry is that we are going to reach a tipping point in which cultures of mutual non-confrontation toward one another get replaced by cultures of antagonism and violence – by both species … We have to de-escalate this situation," said de Silva, who is also founder and president of Trunks and Leaves a non-profit dedicated to the conservation of wild Asian elephants and their habitats.
The study found that the greatest decline in elephant habitats was in China, where 94% of suitable land was lost between 1700 and 2015. That was followed by India, which lost 86%.
Meanwhile, more than half of suitable elephant habitats have been lost in Bangladesh, Thailand, Vietnam and Indonesia's Sumatra. Bhutan, Nepal and Sri Lanka also saw a significant decline – mostly in areas where elephants still roam today.
"Restoring these habitats doesn't necessarily mean keeping them static. Instead we need to better understand the role of people (rural agriculturalists, indigenous communities) who are often marginalized in the economic systems that have been put in place," de Silva said.
"We also need to reckon with how these dynamics can be maintained sustainably, given the current and future human population size as well as climate change."
Colonization sped up the loss of habitat
Researchers found there was an acceleration in elephant habitat loss from the year 1700, which coincided with the expansion of European colonization of the region.
During this time, logging, road-building, resource extraction and deforestation ramped up, and farming became more intense on land that might otherwise have hosted wildlife.
The era also saw "new value systems, market forces, and governance policies" reaching beyond the cities of Europe into the forests of Asia – speeding up elephant habitat loss and the fragmentation of the species, the study found.
"In the year 1700 an elephant might hypothetically have been able to traverse as much as 45% of the 'suitable' area without interruption, but by 2015 this was down to just 7.5%," the authors said.
India and Sri Lanka have the largest remaining wild population of elephants in South Asia.
Both countries were "transformed" by colonial-era road-building and logging "during which elephants and other wildlife were eradicated from higher elevations and lowland rainforests, which were converted to plantations and settlements," the researchers said.
De Silva said the industrial revolution was followed by "a second wave" in the middle of the last century that drove greater habitat loss.
"We observed that in some places, like Thailand and China, the major losses occur following the 1950s. The colonial era had already introduced large-scale plantations in South Asia, but these later changes came from large-scale agriculture," she said.
Today, humans are expanding further into wild spaces with population centers, agriculture, and extractive industries like mining.
And elephants are increasingly coming into conflict with humans.
Encounters between elephants and humans
In India's eastern state of Assam, conflict with elephants dramatically increased in the 1980s, corresponding with a drop in forest cover below 30% to 40% of the landscape, the study said.
Political and social issues have also played a part.
During the Rohingya crisis in 2017, thousands of minority Muslim Rohingya people from Myanmar arrived in neighboring Bangladesh, fleeing a violent military campaign. About 1 million people are now living in the world's biggest refugee camp in Cox's Bazar – in an area that was once the forest home to an elephant population.
How an underwater film inspired a marine protected area off Kenya's coast
Famous for its sprawling nature reserves that are home to all "Big Five" animals, Kenya's 882 miles of coastline along the Indian Ocean are often overlooked. It's a place where people go to "chill out," but not to observe and connect with the wild and unique ecosystem, says Kenyan filmmaker, photographer and conservationist Jahawi Bertolli.
Bertolli is determined to change this outlook and believes that visual storytelling is one way to do it. "No one was telling stories about the ocean here (in Kenya)," he says.
So far, his work has focused mainly on the Lamu Archipelago along Kenya's northern coast, where his wife Elke Bertolli, also a photographer and filmmaker, grew up. Lamu is a hidden gem, he says, and filming has led to new discoveries. "There's not much scientific work that's happened up here so a lot of what we're finding is new," he adds. "We're finding these incredible reefs. We're finding incredible biodiversity."
But this rich biodiversity is increasingly under threat. Bertolli says that harmful fishing practices, such as drag netting, coupled with habitat degradation due, in part, to coastal development, pollution and an increasing human population have caused a reduction in fish populations.
Related: Stunning images from African Wildlife Foundation's photography award are inspiring conservation
Not only is this bad for the ecosystem, but for local fishers too. Lamu is home to one of the oldest Swahili settlements in East Africa, a community who have depended on the ocean since the 12th century. Traditionally these fishers respected the balance with nature, says Bertolli. They stopped fishing when they had enough for what was needed, they only fished in certain seasons, and they left the coral reef alone, understanding it to be a home for fish, where they needed space and time to reproduce and grow. "There's a lot of cultural knowledge, which is actually conservation knowledge. It's just packaged differently," Bertolli explains.
"A powerful tool"
In 2020, Bertolli made a short film about Lamu's sea life and the conservation traditions of the local fishers. He called it "Bahari Yetu" – "Our Ocean" in Swahili – and began showing it the local community. The screenings were a gamechanger, he says: "When you bring back that imagery, all of a sudden people are like, 'Oh my God. Wow, this is ours … this is our heritage, these are our reefs, this is what's happening underwater in our ocean.'"
A viewing of "Bahari Yetu" was also put on for local beach management units and members from the county government and fisheries department. Bertolli also screened another film he had made a few years earlier on locally managed marine areas in Africa. The next time the group met, all members voted unanimously to begin setting up a marine protected area around Lamu's Kinyika island, a craggy rock that acts as a nursing ground for seafaring birds and hosts a bustling coral reef system.
For Bertolli and the people of the Lamu Archipelago, this has been a significant first step to ensuring the preservation of an essential ecosystem. While it's only the beginning and a management plan still needs to be established, Bertolli believes it has also been a testament to the power of visual storytelling. "Because it was their film, told in their language, filmed here – it became an incredibly powerful tool to inspire the community to come together to try and start actually conserving these areas," he says.
Starship could be ready to launch again in 'six to eight weeks,' Elon Musk sa
Since SpaceX's inaugural test flight of the most powerful rocket ever constructed, the company's engineers, federal regulators and environmentalists have been trying to assess the aftermath of the spacecraft's explosion and what happens next.
"The outcome was roughly in (line) with what I expected and, maybe slightly exceeded my expectations," SpaceX CEO Elon Musk said during a Twitter Spaces chat on Saturday evening.
The April 20 liftoff of Starship, as the vehicle is called, was tremendously powerful, causing some damage to SpaceX's launchpad in South Texas.
Musk said he was "glad to report that the pad damage is actually quite small," though it would take "six to eight weeks" to get the infrastructure prepared for another launch. He later added that when the rocket's engines — 30 out of 33 of which fired on for the flight test — reached "full thrust," it "probably shattered the concrete."
The explosion in midair also prompted a federal investigation that could take weeks or months to complete.
In the test mission, SpaceX's Starship launched toward space atop a Super Heavy rocket booster.
Minutes after liftoff, the spacecraft was expected to separate from the rocket booster, but the Super Heavy "vehicle experienced multiple engines out during the flight test, lost altitude, and began to tumble," according to SpaceX.
The company described what happened as a "rapid unscheduled disassembly" — its oft-used euphemism for an explosive mishap.
The vehicle's flight termination, or self-destruct, feature was triggered, exploding the spacecraft and booster over the Gulf of Mexico. Musk said that feature took longer than expected to blow up the rocket, ensuring it didn't careen off course, and that the flight termination system would need to be re-certified. That could be the determining factor in how long it takes the company to get a new Starship on the launch pad.
But there was some good news: "The vehicle structural margins appear to be better than we expected," Musk said. "As we can tell the vehicle is actually doing somersaults towards the end and still staying intact."
Here's what the Federal Aviation Administration, NASA and other agencies have had to say since then.
The FAA
The FAA is charged with overseeing the mishap investigation. The agency licenses commercial rocket launches and gave the green light for the launch attempt after more than a year of back-and-forth.
Such investigations are routine and have taken place after previous — but smaller-scale — Starship test launches in South Texas.
The FAA's review "will determine the root cause of the event and identify corrective actions the operator must implement to avoid a recurrence," the agency said in an emailed statement Friday.
eculate on timelines," the FAA said. "Safety will dictate the timeline."
Cameron County, Texas, which encompasses SpaceX's facilities near Boca Chica Beach, the city of Brownsville, as well as South Padre Island and Port Isabel — alerted the public to contact SpaceX if any debris is found.
"If you believe you have found a piece of debris, please do not attempt to handle or retrieve the debris directly," a notice on Cameron County's website reads.
A hotline to report debris has been set up at 866-623-0234, or officials can be reached by email at recovery@spacex.com.
The US Fish and Wildlife Service
The US Fish and Wildlife Service said in a statement that it's working with SpaceX, the FAA and other involved parties to "provide on-the-ground guidance to minimize further impacts and reduce long-term damages to natural resources.
That activity includes ensuring that SpaceX is complying with the Endangered Species Act — which became the subject of concern after reports that debris from the launch or explosion may have reached nearby protected wildlife areas.
"Following the launch and mid-air explosion, Cameron County closed Boca Chica Beach and State Highway 4 for 48 hours due to launch pad safety concerns, which prevented Service staff from accessing refuge-owned and managed land," the agency's statement reads. "Once the closure ended, Service staff began their assessment of the launch impacts at 10 a.m. April