Walmart sells Bonobos to WHP Global and Express in $75 million deal
Walmart
has sold menswear brand Bonobos to brand management firm WHP Global and Express
in a $75 million deal announced Thursday.
It's the second time this year Walmart has offloaded a direct to consumer brand that it bought under former e-commerce President Marc Lore after it sold Moosejaw to Dick's Sporting Goods
in February.
Walmart originally purchased Bonobos in 2017 for $310 million while it was attempting to grow its online presence and compete with Amazon under Lore, who founded Jet.com. It was just one of the DTC brands the mega-retailer picked up under his tenure and later sold, including Bare Necessities, Shoes.com and ModCloth. Lore left Walmart in 2021.
WHP, which took a 60% stake in Express in December, will acquire the Bonobos brand for $50 million, the company said in a news release. Express will get Bonobos's operating assets and related liabilities for $25 million.
As part of the deal, Express will enter into a licensing agreement with WHP that will allow it to run Bonobos in exchange for royalty fees.
The transaction is expected to close in Express's second fiscal quarter of 2023, which typically ends in late July.
"Bonobos is delivering double-digit sales growth and we plan to continue that momentum while also realizing operating synergies and other economies of scale," Express CEO Tim Baxter said in a statement.
"This is a compelling addition to our brand portfolio, and I expect the transaction will be accretive to operating income and free cash flow positive in fiscal 2023."
Once the acquisition is finalized, WHP's portfolio will include more than 10 consumer brands that are nearing $7 billion in total retail sales, said Yehuda Shmidman, WHP's Global Chairman and CEO.
In a statement, a Walmart spokesperson said the company decided "it's the right time to sell Bonobos" after nearly six years.
"Bonobos joined the Walmart family to expand our assortment and expertise in Menswear. Since acquiring Bonobos, Walmart.com has grown from 70 million to hundreds of millions of items," the spokesperson said.
Online sales accounted for about $53.4 billion — or nearly 13% — of Walmart U.S.′ total net sales in the past fiscal year, which ended in late January, according to company filings. That's a jump from $15.7 billion, or roughly 5% of Walmart U.S.′ total net sales, in 2019.
Last February, Bonobos launched Bonobos Fielder – a more affordable riff on the original brand that sold athleisure on its website, Walmart.com and select Walmart stores.
A few months ago, Walmart decided to discontinue the brand because it overlapped with its men's activewear and casual lines, the spokesperson said, adding the decision to discontinue the line wasn't related to the sale of Bonobos.
Bonobos CEO John Hutchinson will become brand president of Bonobos and report to Baxter after the deal closes.
"This is an exciting moment for Bonobos as we embark on the next phase of our growth," said Hutchison. "Born a digitally native vertical brand, we plan to build on our strength in eCommerce and customer loyalty, leverage EXPR's expertise in omnichannel retailing and scale through WHP Global's partnerships in licensing and distribution."
Ocean census aims to discover 100,000 previously unknown marine species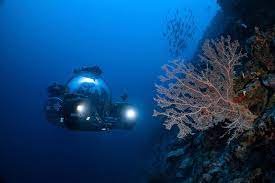 Researchers have embarked on an ambitious global initiative to discover and record marine life hidden in the world's oceans.
Ocean Census aims to identify 100,000 unknown species in the next 10 years, allowing scientists to better understand and protect the deep-sea ecosystem.
There are huge gaps in our knowledge of the ocean depths. Of the 2.2 million species believed to exist in the Earth's oceans, only 240,000 have been described by scientists, according to the census.
Technological advances
It typically takes scientists at least a year to definitively describe a species post-discovery, but new types of technology are making it much easier for sea creatures to be studied in their natural habitat. These include tools like underwater laser scanning that can scan gelatinous creatures such as jelly fish that are hard to study on land.
"You can now look at (the creature) in the water column and see what the morphology is and study them in situ," said Jyotika Virmani, the executive director of the Schmidt Ocean Institute in Palo Alto, California, which will participate in the project.
"What we're moving towards is a place where we can actually perhaps even do taxonomic identification in the water column instead of bringing everything back to land. And that's really exciting and will make things move a lot faster."
All living organisms, including humans, disperse genetic material into the environment, and the project will also make use of new and accessible techniques to sample waterborne DNA to detect and track species.
While many of the species discovered are likely to be on the smaller end of the scale, Virmani noted that the world's longest sea creature was only discovered in 2020 off the coast of Western Australia — a 150-foot stringlike animal known as a siphonophore.
Ocean Census will also help to identify how marine ecosystems are responding to the climate crisis, and assess how marine life could adapt to a warmer climate.
The project is being led by Nekton, a UK-based marine science and conservation institute, and funded by The Nippon Foundation, a nonprofit foundation based in Japan.
Over the next decade, dozens of expeditions to the ocean's biodiversity hotspots will search for new species involving divers, submarines and deep-sea robots. The project also hopes to involve private vessels and individuals. The data and information gathered will by openly accessible for scientists, policymakers and the public for noncommercial use.
3 tips can help you save if you're living paycheck to paycheck, personal finance expert Suze Orman says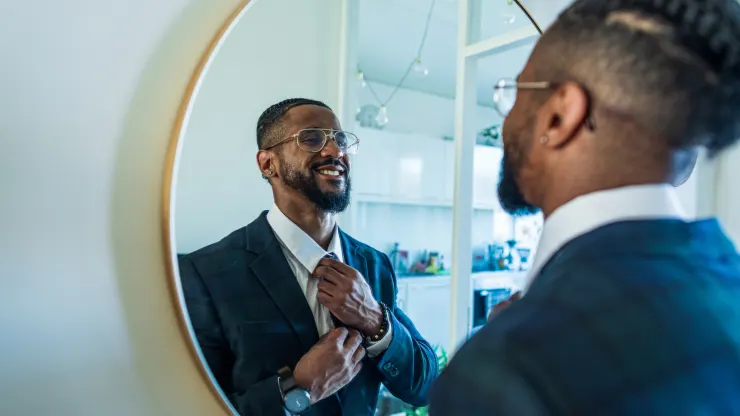 When you're living paycheck to paycheck, it can be tough to find money to save.
That was the situation one audience member, Natalie, wrote in about ahead of CNBC's Women & Wealth event on Tuesday. While grappling with high childcare and housing costs, Natalie is barely breaking even, she wrote, which makes finding money to set aside for big goals like retirement difficult.
A recent CNBC Your Money Financial Confidence Survey, conducted in partnership with Momentive, shows that she is not alone. More than half, or 58%, of all Americans are living paycheck to paycheck, according to the March results.
If you find setting money aside difficult, it's a sign that it's time to change your lifestyle, personal finance expert Suze Orman said.
As part of its National Financial Literacy Month efforts, CNBC will be featuring stories throughout the month dedicated to helping people manage, grow and protect their money so they can truly live ambitiously.
70% of Americans are feeling financially stressed, new CNBC survey finds
Most Americans are using tax refunds to boost savings or pay off debt
58% of Americans live paycheck to paycheck: CNBC survey
How smart are you about your money? Test your knowledge now
Here's how to handle stress over market volatility, financial advisor says
These steps can help close the racial retirement gap. 'It's not what you make, it's what you keep'
View More
"You have to strike the word 'can't' out of your vocabulary," Orman said in response to the audience query.
Rather, people should draw up a financial to-do list right now that includes getting out of credit card debt, having an eight- to 12-month emergency fund and funding their retirement accounts, Orman said.
That's as many experts, including Orman, say a recession could be coming.
But whether there is a recession or not, you need to be prepared that an unexpected event — like an illness, accident or layoff — could set you back, Orman said.
"The most important thing, really, for everybody to understand about their money … is that you have got to live a life below your means, but within your needs," Orman said.
Several tips can help you get started.
1. Make yourself a 'No. 1 priority'
Portrait of an elegant man in a suit preparing for an important day at work
Daniloandjus | E+ | Getty Images
People who think they are living paycheck to paycheck likely have something they are doing with money that they should not be doing, Orman said.
For example, if you go out to eat rather than eating in, that's $10 you could be putting into a Roth individual retirement account — an account for post-tax contributions towards retirement.
"You have to make yourself a No. 1 priority," Orman said.
That means you do what you have to do in order to meet your financial goals, she said, even if it means taking on more than one job or cutting back on discretionary expenses.
You should be always be funding your retirement accounts, Orman said.
2. Automate your savings
To get into the habit of setting money aside, it's best to automate the process, Orman said.
So whether you choose to do $50 a month or $100 a month, by setting aside money before you see it in your paycheck, "you will find that you do not miss it," Orman said.
Inside MT BARBER: The Rising Star in the Barber Shop Industry
Gustavo Olmedo Romero, a professional barber from Oaxaca, Mexico, is making waves in the world of barbering with his brand MT BARBER. Born on September 1, 1986, Gustavo migrated to the United States at the age of 15 in search of a better future. He settled in New Brunswick for two years before moving to Delaware, where he worked multiple jobs, including dishwasher, cook, and gardener.
This period of his life was crucial in shaping his work ethic, and Gustavo is now living his dream.
At the age of 24, Gustavo started learning the profession that had fascinated him since childhood. He taught himself through videos and practice sessions with his friends, and in 2010, he began working in a barber shop where he worked for seven years, honing his skills and becoming a high-level barber. In 2017, Gustavo opened his first barber shop called MT BARBER SHOP, where he employed 12 barbers. Two years later, he opened his second shop with the same name, adding 12 more barbers to his team and expanding his brand.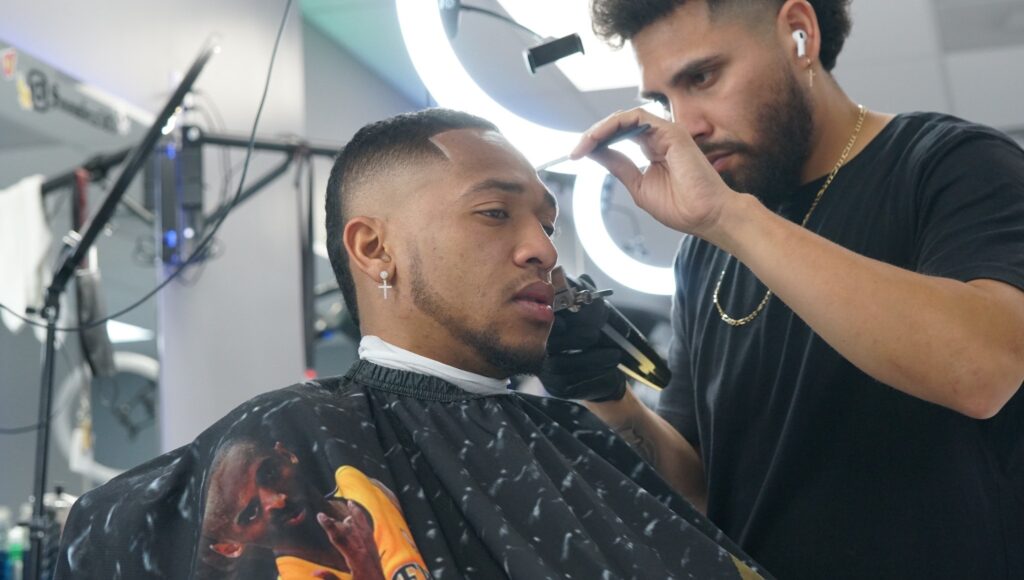 According to Gustavo, the world of barbering is an excellent profession to learn and grow in, but it requires a lot of discipline and constant learning because haircuts and styles are continually evolving. Gustavo has also worked with professional soccer players, including José Andrés Martínez and Gelmin Rivas. His vision is to expand his brand nationally and internationally, and he knows that it will take a lot of hard work and effort, but he is determined to achieve his goals.
MT BARBER's Instagram handle is @mexican_talent, and you can book an appointment on their website mtbarbershop.booksy.com. Gustavo Olmedo Romero is changing the world of barbering with his brand, MT BARBER, and he is an inspiration to many aspiring barbers.