Centro Cultural Borges re-opens in state hands
Historic building that houses the Galerías Pacífico shopping mall welcomes back the CCB, this time with a federal agenda.
Hannah Gonzalez is a student journalist from Ithaca, New York, United States. Currently studying Journalism with minors in Spanish and Portuguese at Northwestern University, she enjoys writing about music, arts and culture.
From the indoor balcony of the Centro Cultural Borges ("Borges Cultural Centre," CCB) in Buenos Aires, one can see and experience culture, history and commerce all at once.
Below is the luxurious Galerías Pacífico shopping mall; nearby are the iconic murals depicting various scenes of family, nature and other sociocultural values. Artistic exhibits surround this midpoint on all sides, creating a meeting place where these three elements intersect.
The Centro Cultural Borges, bearing the name of Argentina's most famous writer, reopened its doors this March after a two-year pandemic closure, this time in state hands.
The space is replete with 13 exhibition spaces, three performance halls and a small open library. The Parisian-style building, constructed in 1891, has long been recognised as a cultural meeting point — it was originally the first home of the Museo Nacional de Bellas Artes.
Under its new management, the four pavilions of the Centro Cultural Borges currently feature the Bon Marché hall of the Museo Nacional de Bellas Artes and a sprawling exhibit dedicated to legendary folk singer Mercedes Sosa, as well as multiple rotating tango and jazz concerts.
It also proudly displays multiple inaugural exhibitions as well as two exhibits that opened on May 11; one dedicated to the late Mexican novelist Carlos Fuentes, and another by Diana Schufer, Las palabras se las lleva el viento ("Words are carried by the wind"), presented in dialogue with the works of the legendary writer for whom the Centre is named: the incomparable Jorge Luis Borges.
During former president Carlos Menem's administration (1989-1999), the historic building passed from the hands of Ferrocarriles Argentinos to hotel businessman Mario Falak for the purposes of creating the Galerías Pacífico shopping centre, according to . Part of the building was allocated to the Borges Cultural Centre, which, starting in 1995, was managed by the private Fundación para las Artes ("Foundation for the Arts").
The group remained in charge of the Centre until its closure due to the pandemic, after which the National Culture Ministry recovered the space in early 2021, following negotiations between the two parties.
Ezequiel Grimson, former undersecretary of cultural policies for Buenos Aires Province and ex-culture director of the National Library, is the CCB's new director.
"The Centro Cultural Borges had gone through some rather difficult last few years in its private management, and the arrival of the pandemic made it impossible for the project to continue," he told the Times in an interview.
"The National Culture Ministry took charge [of the Centre] on the basis of an agreement that was made between the Fundación para las Artes and the National Culture Ministry," he explained. After the changing of hands, Grimson and his team worked "for practically an entire year on its architectural transformation."
According to a sharply critical published by Infobae in August 2021, the process did not go quite so smoothly. Penned by Blanca Maria Monzón, the CCB's director of the Audiovisual Department before the change in management, the article voiced complaints that not all employees were able to keep their jobs.
"During the pandemic, the Fundación para las Artes informed the staff of the Borges Cultural Centre that they had to transfer to the Culture Ministry, since the Fundación could not continue to absorb their salaries," writes Monzón.
"The situation of the monotributistas [self-employed staff] — some with years, and decades, of sustained.
permanence in the institution — was much more uncertain. They promised that the Fundación would remain an appendage within the CCB, and would therefore continue to assume the commitment to pay their salaries: no-one would be left without work."
"I found this argument dubious," the article continues. "Since its inception — and for 26 uninterrupted years — the institution never enjoyed sufficient funds to place all its workers on permanent staff, particularly the hierarchical personnel. Unfortunately, time proved me right. A few days later, they told us: we have no more money, turn to the State."
La Nación reported in March that the Culture Ministry absorbed about 20 employees from the Fundación para las Artes.
Monzón could not be immediately reached to comment on this issue.
Despite the complaints, many experts are supportive of the changing of hands, as well as the role of the state in this particular project.
Sebastián Hernaiz is an author and professor of Literature at the University of Buenos Aires. Though he had not yet visited the newly reopened CCB, he believes that the state has a responsibility to participate in such projects.
"Undoubtedly, it seems important to me — and it is part of their duties — that state institutions can participate in the preservation and dissemination of our cultural heritage," Hernaiz told the Times via email.
"I understand that the management of the Cultural Centre, in the hands of the Culture Ministry, proposes to do so with the space dedicated to Borges in a way that the previous management did not have among its priorities," he continued.
Victoria Verlichak, art critic and culture reporter for Noticias magazine, feels similarly about the role of the state.
"The state must participate in culture," said Verlichak, who covered not only the Centre's reopening this year but also its initial opening in 1995. "It cannot remain in private hands alone, although private participation is also essential."
Looking up, one can see the murals on the dome of the shopping centre painted by artists Antonio Berni, Juan Carlos Castagnino, Manuel Colmeiro, Lino Enea Spilimbergo and Demetrio Urruchúa in 1946. They depict varying scenes and situations, representing "the primary values and socio-cultural practices common to diverse cultures," according to the Galerías Pacífico.
Though patrons can be seen perusing exhibits at the CCB while toting bags from Levis, and a Starbucks can be found mere metres from the second floor entrance, other more commercial elements of the mall have collided with the cultural and the artistic to produce a thoroughly unique identity. A portrait of Frida Kahlo hangs in the window of the Swatch store alongside a display of colourful watches from the company's art-inspired collection, produced in collaboration with — fittingly enough — French cultural centre Centre Pompidou.
At every turn shoppers can find a display of photography, visual or textile art. Some exhibits can be explored on foot, others are protected behind glass cases.
There is even a shop within the Borges Culture Centre, rounding out the commercial connection. The Mercado de Artesanías Tradicionales e Innovadores Argentinas ("Market of Traditional Artisans and Argentine Innovators," MATRIA) store hosts a monthly rotating exhibition of work by artisans from all over Argentina, underlying the federalist slant of the space.
"The federal mission is also carried out through the store of artisans, which presents productions that otherwise could not be seen in our federal capital," Grimson told the Times.
Commercial aspects aside, the Centre also currently features a collaborative drawing exhibit, a workshop display in tribute to Italian-Argentine artist Libero Badii, and multiple photographic exhibitions.
Juan Pablo Spicer-Escalante, a professor of Hispanic Studies, professional photographer and patron of the CCB, had visited the space many times before its closure in 2020. Standing in front of the Ayni photography exhibit, he told the Times that the space's features and exhibitions are "remarkable."
"For me, it has now become a much more cultural centre," the 58-year-old professor stated.  "What they have here seems to me to be really exceptional," he continued. "I had not seen this before."
Hernaiz, who teaches private courses dedicated to Jorge Luis Borges' works as well as classes on Argentine literature at UBA, highlighted the author's role in contemporary Buenos Aires and the importance of accessibility to his extensive work.
"I think it is important to have exhibitions, workshops, reading spaces, reading circles," the 40-year-old said of what a cultural space such as this should offer. He emphasised the importance of bringing Borges's work closer to readers who "have not yet found the entry point."
For Spicer-Escalante — who grew up between Argentina and the United States and currently teaches at Utah State University — the newly renovated space summons people to do just that.
"It invites a person to come and visit much more than before," he said. "To me it was a nice, but cold space before, and this seems much more natural."
In terms of public response, Grimson says the Centre is satisfied with the number of patrons passing through and the attendance at shows alike.
"We are very pleased," he said, assessing the public response to the reopening. "Around 5,000 people are coming each week, the shows in general have a full house."
The director, highlighting the federal mission of the site, also emphasised "representation from all corners of our country, through diverse expressions," ranging from visual exhibitions with artists and photographers from diverse places in the country, to the artisan store, to the free beginner's tango classes offered on weekends.
"In that way we are seeking, finding and receiving different proposals and projects that put us in an interesting creative dialogue with diverse communities," concluded the director.
All in all, the space encompasses an important cultural plurality that is characteristic of Borges' work — everything that was and is Argentina.
For Spicer-Escalante, who met Borges in Buenos Aires in 1984, the space ultimately embodies the legendary author as a person.
NFL Week 13 picks: Minnesota Vikings-New York Jets predictions | Can Mike White keep the offense rolling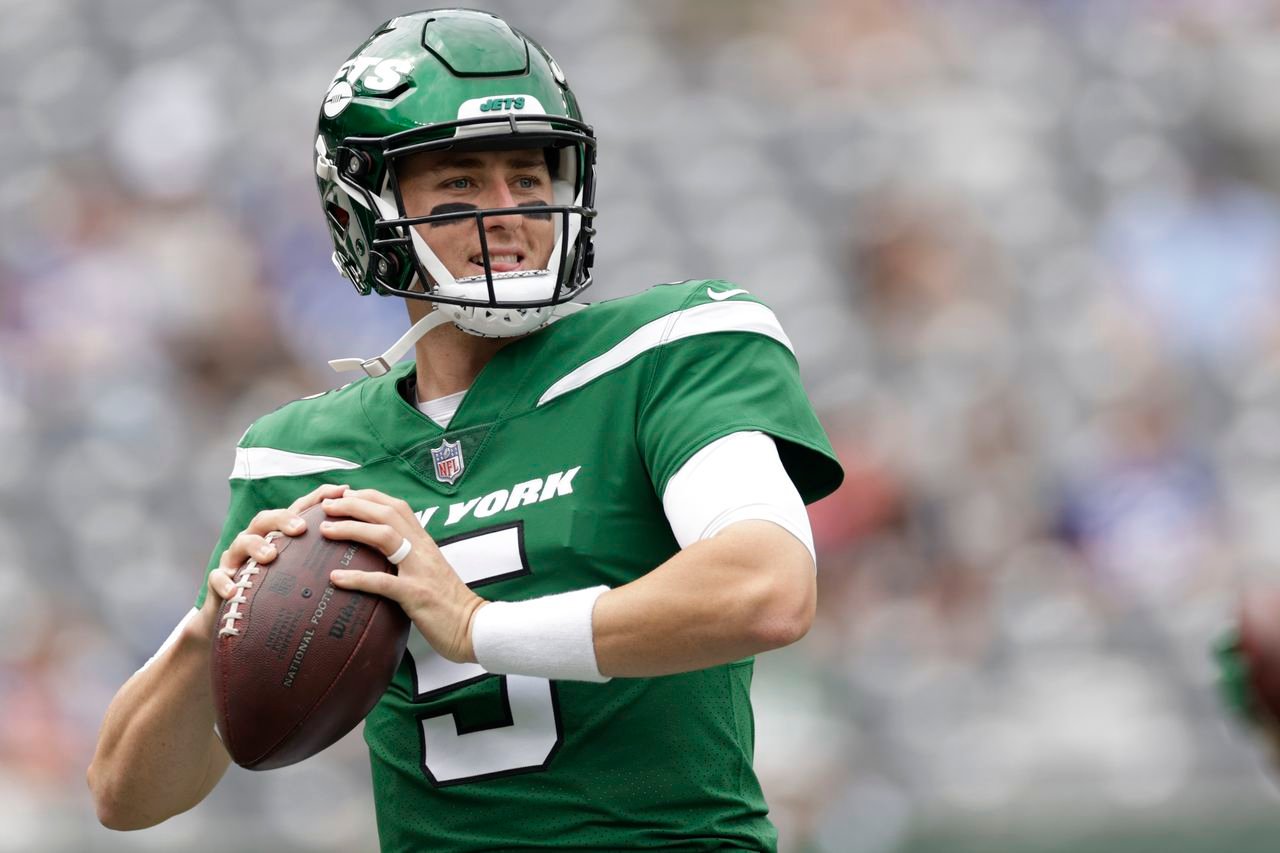 N.Y. Jets practice before NFL Week 13 game in Minnesota
The Jets have been talking about playing meaningful games in December since the opening days of training camp. Well, December is here, and it doesn't get much bigger than this: a six-game sprint to the finish to determine their playoff fate starting Sunday at the Vikings (9-2)
At 7-4, Robert Saleh's young, still-growing team is in a position to do what few thought possible just mere months ago: end the franchise's playoff drought at 11 consecutive seasons. But as the Jets arrive at one benchmark for this season, by putting themselves in the mix, the evolving expectations and challenges ahead of them are sure to test them in brand-new ways.
Getting into the hunt for a playoff spot means it's going to hurt if they fall short. And if the Jets' focus drifts to standings and scenarios, and away from the task and opponent immediately in front of them, falling short becomes a whole lot more likely.
BUY JETS TICKETS: STUBHUB, VIVID SEATS, TICKETSMARTER, TICKETMASTER
Saleh said that between his work obligations and an extremely full house, looking ahead isn't something he has to worry about.
"Me, personally? Too much crap to do, man," Saleh said with a laugh. "There's a lot of tape to watch. And when I'm not watching tape, I've got seven blessings and a beautiful wife to deal with. So there's not enough time to look at things you don't have control over.
"It doesn't mean that when you're sitting there you don't take a peek to see what's ahead. … You acknowledge it, and it's not like it's an elephant in the room, it's not like you're not going to acknowledge it. But none of it matters at the end of the day. You've got to quickly refocus back to what's important, and what's important is this moment."
It's not always easy. Saleh admitted his family and friends are fully involved in projecting how the final six weeks will play out. But his message to the team has been consistent as the games get more important.
"Oh, the family? My kids? Yeah, they're all – everyone's excited and everyone should be excited," Saleh said. "But it's the hypotheticals and all the scenarios that are great talking points for the rest of the outside world. We just have to stay focused here."
Andy Vasquez, Jets beat reporter: The Vikings' defense is vulnerable, as the Patriots proved last week by scoring 26 points in Minnesota four days after the Jets kept them out of the end zone in New England. And Mike White looks confident and ready to build on his strong performance in his season debut last week. The Jets are 7-0 when they score at least 18 points this season, and 0-4 when they don't. The Jets will need more this week (because as good as their defense is, shutting down Justin Jefferson is a lot to ask), and Garrett Wilson will help them get it with another command performance.
PICK: Jets 27, Vikings 24.
Darryl Slater, Giants beat reporter: Tall order for the Jets here, as they fight to stay ahead of the Patriots and in the AFC playoff race. This would be an absolutely massive win for Robert Saleh and Co., against a 9-2 team that has lost just once at home all season, two weeks ago in that dud against the Cowboys. But that was an outlier. The Justin Jefferson vs. Sauce Gardner matchup will be fascinating. Just as important: How will Mike White fare against a Vikings defense that is seventh in Pro Football Focus' ratings? Not well enough, we think.
PICK: Vikings 27, Jets 24.
Want to bet on the NFL?
See the best NJ Sports Betting sites
Bob Brookover, Giants beat reporter: The Jets play at Minnesota and Buffalo the next two weeks and finish on the road against Seattle and Miami. Could they make their road to the playoffs any more difficult?
PICK: Vikings 23, Jets 20.
Thank you for relying on us to provide the journalism you can trust. Please consider supporting us with a subscription.
Andy Vasquez may be reached at avasquez@njadvancemedia.com.
If you purchase a product or register for an account through one of the links on our site, we may receive compensation.
Registration on or use of this site constitutes acceptance of our User Agreement, Privacy Policy and Cookie Statement, and Your California Privacy Rights (User Agreement updated 1/1/21. Privacy Policy and Cookie Statement updated 7/1/2022).
Cookie Settings
© 2022 Advance Local Media LLC. All rights reserved (About Us).
The material on this site may not be reproduced, distributed, transmitted, cached or otherwise used, except with the prior written permission of Advance Local.
Community Rules apply to all content you upload or otherwise submit to this site.

Ad Choices
Let privacy bring us together in the new Congress
As we head into the next Congress, we do so knowing that that millions of dollars have been spent sending negative campaign messages over our airwaves and to our phones and mailboxes, highlighting the things that divide us. There is no question that our national discourse has gotten more heated, more divisive, and more polarized. As we saw in the last Congress, when all we do is talk about things that tear the country apart, it is difficult to get anything done on a bipartisan basis.
In spite of this polarization, there is one issue that does bring millions of Americans of all political persuasions together: the need for stronger privacy and security protections for our personal information.
Republicans and Democrats, Senators and House members, and a wide-ranging coalition of business, consumer, civil rights, and privacy groups — including my organization, the National Consumers League — came together this year to craft a comprehensive national privacy bill.
The version of the ADPPA that passed out of the House Energy and Commerce Committee this summer didn't include everything that all of us wanted. However, it did represent hundreds of hours of communication, compromise, and careful work. This bill stands as an important symbol of what can be achieved if elected officials stay focused on helping consumers.
There are many reasons why the leaders of the 118th Congress — both returning and newly elected — need to make 2023 the year of national privacy reform.
First, unlike many other issues that come before Congress, the American people actually want their elected officials to fix this problem. Americans of all political persuasions .
that online privacy and security are their top concerns when it comes to tech issues. Privacy and security threats do not just come from your computer or your smartphone anymore; they come from your refrigerator, your finances, your car, your kid's toys. Bad actors are getting more sophisticated. The lack of a comprehensive data protection law has left Americans at the mercy of criminal hackers who are making.
Knowing how to secure your personal information and understanding privacy policies shouldn't require an advanced legal degree or microscope to read the fine print. Consumers should understand their rights, know they are protected, and have readily available recourse should something go wrong.
Second, the hard work of crafting a bipartisan, comprehensive privacy bill that protects all Americans has already been done. Thanks to the hard work of a dedicated group of elected officials and bipartisan staff in both the House and the Senate, we have a good framework that has significant buy-in from stakeholders across the political spectrum. Congress should build something on this framework in January and make this one of the top five things the new Congress does in the first quarter of the year.
Third, if we don't act soon, America's privacy rights will be at the mercy of other global actors. The U.S. is the leader of the world when it comes to technology and innovation. Yet, we are among a small subset of countries that do not have a federal privacy protection law. Other countries are getting more aggressive about privacy. As a result, the U.S. is falling behind and reacting to them instead of leading the way and setting the goal posts.
A Mini Castle in Upstate New York Lists for Nearly $1.75 Million
A miniature castle in Irvington, New York—once home to actors Shirley Jones and Jack Cassidy—has hit the market for $1.749 million.
Known as Villa Keen, the 3,502-square-foot stone abode features two turrets, a Mediterranean-style terracotta tiled roof and ornate stained-glass windows fit for modern royalty, according to last week's listing with Ryan Paige and Adam Blankfort of Corcoran Baer & McIntosh.
"This is a one-of-a-kind find," Mr. Blankfort said. "I've never seen a property with this proximity to New York City where you have your own courtyard."
Built in 1929, it's the type of house that can never be duplicated, Mr. Paige added.
"You just would never build something with this layout and this kind of character," he said. "Financially, it just wouldn't make sense for a lot of people. … It's also on a really nice lot and you're only about five minutes from the train station. You can be at Grand Central [Terminal] within 30 minutes."
Far from a drafty old castle, the residence feels "really warm when you're inside it. It's definitely a nice place where I think families can gather for the holidays," Mr. Paige explained.
Indeed, the current owners, Susan and Arnold Gunther, have made it their family home for the last 28 years, according to property records. Mansion Global could not determine how much they paid for the property.
"We, the Gunther family, have enjoyed the neighborhood activities: block parties, screened movies at the Hudson River, the Easter egg candy hunt. We love the history of the area," Ms. Gunther said in an email, name checking former residents writer Washington Irving and glass artist Louis Tiffany. "The people are interesting people, and there's always something to do."
Over the years, a slate of notable names have also lived in the home, and the Gunthers "have been visited by all the former owners' children or grandchildren through the years."
Academy award-winning actress Shirley Jones, Tony Award-winning actor Jack Cassidy and their children—one of whom grew up to be musician and television producer Shaun Cassidy—rented the home in the late 1960s when they were both starring in the Broadway musical "Maggie Flynn." At the time, Robert Wright, an associate producer of "The Carol Burnett Show," was their landlord, according to 1968