Colorado plans to send more migrants to New York
NEW YORK — Colorado Gov. Jared Polis plans to send migrants to major cities including New York, Mayor Eric Adams said Tuesday, warning that the nation's largest city is already struggling to deal an influx of people sent from Texas and other Republican-led states.
However, the Democratic governor told  shortly afterward that the state has been helping asylum seekers reach their final destinations — including New York City — for weeks. The only change has been a recent winter storm and ensuing travel catastrophe that created a backlog of migrants wanting to leave Denver, which is now being cleared.
Adams made his comments during a radio appearance Tuesday morning.
"We were notified yesterday that the governor of Colorado is now stating that they are going to be sending migrants to places like New York and Chicago," Adams said during a radio appearance. "This is just unfair for local governments to have to take on this national obligation."
An aide to Adams said the mayor's administration was told about the influx Monday evening.
Like many major cities around the country, Denver has been struggling to provide services for a surge of people who have fled their home countries in Central and South America, crossed the southern border and sought asylum in the United States. Over the past month, more than 3,500 migrants have arrived in Denver, according to the city, and each night around 1,800 asylum seekers have sought shelter in the city.
In response, Denver Mayor Michael Hancock declared a state of emergency and later appealed to the local Catholic archdiocese for assistance. He and Polis — both Democrats — also launched a fund to raise money to support services for migrants.
In total, Polis said the state has recently made $5 million available to assist with expenses. And while roughly 70 percent of asylum seekers who arrive in Denver are traveling to other destinations, the cost of helping them purchase bus tickets constitutes a fraction of the overall pot of cash.
In light of the recent winter storm that snarled holiday travel — with Southwest Airlines' logistical meltdown leading to a rush on bus tickets — the Denver mayor's office reached out to the Adams administration to let them know that more migrants than usual may be arriving by bus, according to Polis, who expected levels to moderate within a week or two.
"There is a lot of pent-up demand right now and a lot of frustration among our migrants who have been trapped for a week or two in a place they didn't want to be through no fault of their own," he said.
On Tuesday, Polis announced a partnership including the state, the city and local nonprofits designed to beef up transportation services for asylum seekers trying to get out of Colorado — an initiative welcomed by Hancock's office.
"I appreciate [Polis] and the State for leaning in to support those coming to our city to reach their preferred destinations, and to help reduce the number of people in our shelters and more quickly connect them with community supports and other options," Hancock said in a statement Tuesday. "I've talked with other mayors around the country and we're united in our call for Congress to work with the Biden Administration to provide the assistance we need to manage this situation."
Thousands of migrants have attempted to cross into the U.S. from the southern border in recent weeks, in part because a Trump administration border policy, known as Title 42, was set to expire in December. The Supreme Court last week blocked the lifting of the policy, which allows the U.S. to expel migrants to stop the spread of Covid-19.
Texas GOP Gov. Greg Abbott over the spring and summer bused thousands of migrants from the border to blue strongholds like New York, Washington, D.C., and Chicago, while Florida Republican Gov. Ron DeSantis flew nearly 50 mostly Venezuelan migrants from Texas to Martha's Vineyard. He claimed it was to bring attention to the border situation.
But in recent weeks, the dilemma at the border has become worse. El Paso's Democratic mayor, Oscar Leeser, declared a state of emergency in December after migrants began pouring into the city. Abbott also deployed hundreds of Texas national guard and state troopers to the border to stop people from entering the U.S.
The migrants are coming to Colorado on buses from border towns including El Paso, Texas though it's unclear whether any government officials have paid for those trips north.
A spokesperson for Abbott said in an email, "We are still only busing to DC, NYC, Chicago, and Philadelphia." The El Paso mayor's office similarly said they had not coordinated any travel to Denver, though a host of entities, from the county to individual nonprofits, are all involved in assisting migrants with transport out of Texas.
Polis said that most officials dealing with an influx of migrants have been acting in good faith.
"Too many people, in our opinion, view this through a political lens or as playing politics — and it's terrible that in some places, people have been used as political props," he said. "But what we are doing here is just honoring our values by treating people with dignity and respect."
Adams said Tuesday around 30,000 asylum seekers have arrived in New York City since the spring in need of food, shelter and education — a surge that has has stretched the city's social service infrastructure to the breaking point and opened up huge risks for the municipal budget. Adams, along with the two Colorado leaders, have called on the federal government to provide assistance to localities dealing with the influx.
"No city should have to make a decisions if they're going to provide for their citizens — particularly coming out of Covid — or if they're going to deal with an onslaught of migrants and asylum seekers," he said.
Ocean census aims to discover 100,000 previously unknown marine species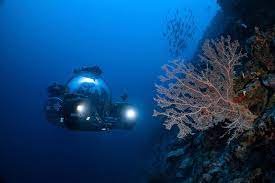 Researchers have embarked on an ambitious global initiative to discover and record marine life hidden in the world's oceans.
Ocean Census aims to identify 100,000 unknown species in the next 10 years, allowing scientists to better understand and protect the deep-sea ecosystem.
There are huge gaps in our knowledge of the ocean depths. Of the 2.2 million species believed to exist in the Earth's oceans, only 240,000 have been described by scientists, according to the census.
Technological advances
It typically takes scientists at least a year to definitively describe a species post-discovery, but new types of technology are making it much easier for sea creatures to be studied in their natural habitat. These include tools like underwater laser scanning that can scan gelatinous creatures such as jelly fish that are hard to study on land.
"You can now look at (the creature) in the water column and see what the morphology is and study them in situ," said Jyotika Virmani, the executive director of the Schmidt Ocean Institute in Palo Alto, California, which will participate in the project.
"What we're moving towards is a place where we can actually perhaps even do taxonomic identification in the water column instead of bringing everything back to land. And that's really exciting and will make things move a lot faster."
All living organisms, including humans, disperse genetic material into the environment, and the project will also make use of new and accessible techniques to sample waterborne DNA to detect and track species.
While many of the species discovered are likely to be on the smaller end of the scale, Virmani noted that the world's longest sea creature was only discovered in 2020 off the coast of Western Australia — a 150-foot stringlike animal known as a siphonophore.
Ocean Census will also help to identify how marine ecosystems are responding to the climate crisis, and assess how marine life could adapt to a warmer climate.
The project is being led by Nekton, a UK-based marine science and conservation institute, and funded by The Nippon Foundation, a nonprofit foundation based in Japan.
Over the next decade, dozens of expeditions to the ocean's biodiversity hotspots will search for new species involving divers, submarines and deep-sea robots. The project also hopes to involve private vessels and individuals. The data and information gathered will by openly accessible for scientists, policymakers and the public for noncommercial use.
3 tips can help you save if you're living paycheck to paycheck, personal finance expert Suze Orman says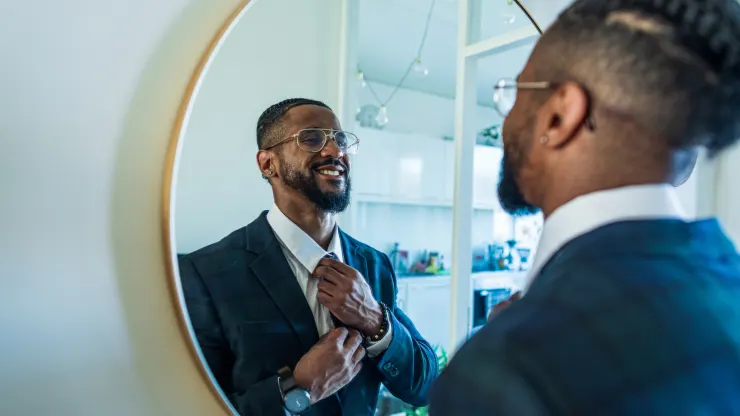 When you're living paycheck to paycheck, it can be tough to find money to save.
That was the situation one audience member, Natalie, wrote in about ahead of CNBC's Women & Wealth event on Tuesday. While grappling with high childcare and housing costs, Natalie is barely breaking even, she wrote, which makes finding money to set aside for big goals like retirement difficult.
A recent CNBC Your Money Financial Confidence Survey, conducted in partnership with Momentive, shows that she is not alone. More than half, or 58%, of all Americans are living paycheck to paycheck, according to the March results.
If you find setting money aside difficult, it's a sign that it's time to change your lifestyle, personal finance expert Suze Orman said.
As part of its National Financial Literacy Month efforts, CNBC will be featuring stories throughout the month dedicated to helping people manage, grow and protect their money so they can truly live ambitiously.
70% of Americans are feeling financially stressed, new CNBC survey finds
Most Americans are using tax refunds to boost savings or pay off debt
58% of Americans live paycheck to paycheck: CNBC survey
How smart are you about your money? Test your knowledge now
Here's how to handle stress over market volatility, financial advisor says
These steps can help close the racial retirement gap. 'It's not what you make, it's what you keep'
View More
"You have to strike the word 'can't' out of your vocabulary," Orman said in response to the audience query.
Rather, people should draw up a financial to-do list right now that includes getting out of credit card debt, having an eight- to 12-month emergency fund and funding their retirement accounts, Orman said.
That's as many experts, including Orman, say a recession could be coming.
But whether there is a recession or not, you need to be prepared that an unexpected event — like an illness, accident or layoff — could set you back, Orman said.
"The most important thing, really, for everybody to understand about their money … is that you have got to live a life below your means, but within your needs," Orman said.
Several tips can help you get started.
1. Make yourself a 'No. 1 priority'
Portrait of an elegant man in a suit preparing for an important day at work
Daniloandjus | E+ | Getty Images
People who think they are living paycheck to paycheck likely have something they are doing with money that they should not be doing, Orman said.
For example, if you go out to eat rather than eating in, that's $10 you could be putting into a Roth individual retirement account — an account for post-tax contributions towards retirement.
"You have to make yourself a No. 1 priority," Orman said.
That means you do what you have to do in order to meet your financial goals, she said, even if it means taking on more than one job or cutting back on discretionary expenses.
You should be always be funding your retirement accounts, Orman said.
2. Automate your savings
To get into the habit of setting money aside, it's best to automate the process, Orman said.
So whether you choose to do $50 a month or $100 a month, by setting aside money before you see it in your paycheck, "you will find that you do not miss it," Orman said.
Inside MT BARBER: The Rising Star in the Barber Shop Industry
Gustavo Olmedo Romero, a professional barber from Oaxaca, Mexico, is making waves in the world of barbering with his brand MT BARBER. Born on September 1, 1986, Gustavo migrated to the United States at the age of 15 in search of a better future. He settled in New Brunswick for two years before moving to Delaware, where he worked multiple jobs, including dishwasher, cook, and gardener.
This period of his life was crucial in shaping his work ethic, and Gustavo is now living his dream.
At the age of 24, Gustavo started learning the profession that had fascinated him since childhood. He taught himself through videos and practice sessions with his friends, and in 2010, he began working in a barber shop where he worked for seven years, honing his skills and becoming a high-level barber. In 2017, Gustavo opened his first barber shop called MT BARBER SHOP, where he employed 12 barbers. Two years later, he opened his second shop with the same name, adding 12 more barbers to his team and expanding his brand.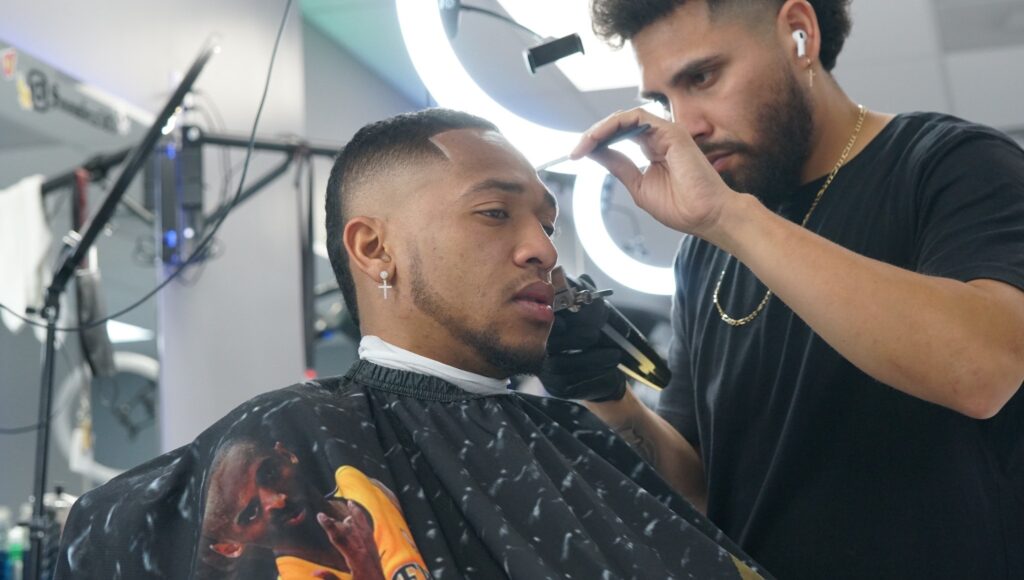 According to Gustavo, the world of barbering is an excellent profession to learn and grow in, but it requires a lot of discipline and constant learning because haircuts and styles are continually evolving. Gustavo has also worked with professional soccer players, including José Andrés Martínez and Gelmin Rivas. His vision is to expand his brand nationally and internationally, and he knows that it will take a lot of hard work and effort, but he is determined to achieve his goals.
MT BARBER's Instagram handle is @mexican_talent, and you can book an appointment on their website mtbarbershop.booksy.com. Gustavo Olmedo Romero is changing the world of barbering with his brand, MT BARBER, and he is an inspiration to many aspiring barbers.