It's not just Adderall: The number of drugs in short supply rose by 30% last year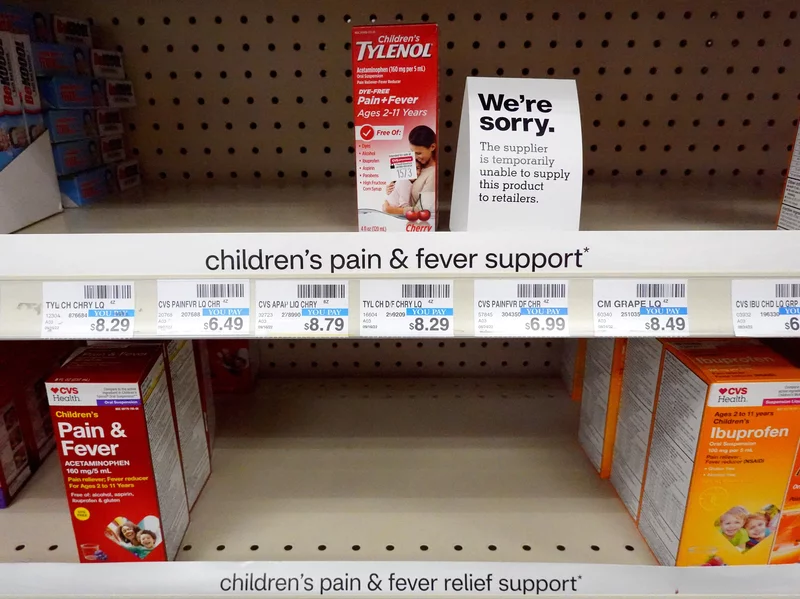 It's not just your imagination: Drugs such as children's flu medication, common antibiotics and ADHD treatments are getting harder to buy, according to a Senate report published Wednesday.
Democrats on the Homeland Security and Governmental Affairs Committee say the number of new drug shortages rose by 30% between 2021 and 2022, an increase that has had "devastating consequences" for patients and doctors.
Towards the end of 2022, a peak of 295 individual drugs were considered in short supply — impacting treatment for everything from colds to cancer.
What's behind these shortages?
The report says the pandemic stretched supply chains thinner, right when demand for over-the-counter respiratory relief was spiking.
But even before the pandemic, the U.S. had struggled to overcome essential supply shortfalls. More than 15 "critical care drugs," such as common antibiotics and injectable sedatives, have remained in short supply for over a decade, the report says.
Reliance on foreign manufacturers is the top reason the U.S. struggles to head off shortages, says Sen. Gary Peters, the Michigan Democrat who chairs the Homeland security committee.
"Nearly 80% of the manufacturing facilities that produce active pharmaceutical ingredients […] are located outside of the U.S.," he said during a hearing about the issue on Wednesday.
That's also creating an "unacceptable national security risk," he says.
The Administration for Strategic Preparedness and Response told the committee staff that 90 to 95% of injectable drugs used for critical acute care rely on key substances from China and India. In other words, a severe breakdown in the supply chain could leave emergency rooms scrambling.
What could be done to solve the drug shortages?
The report also found that the federal government and industry regulators lack visibility into the supply chain for such drugs, making it harder to predict shortages. The Food and Drug Administration doesn't know, for example, the amount of starting material a manufacturer has available, or, in some instances, how many manufacturers are involved in producing the final drug.
And even in cases where they do have this kind of data, they're failing to retain it in ways that would help predict shortages. The data stays "buried in PDFs," the report says. To fix this, the FDA could create a central database of starting-materials levels and track production volume.
Committee Democrats are also recommending that a team of federal agencies pair up to perform regular risk assessments on the supply chain, increase data sharing requirements on private manufacturers, and then increase data sharing between agencies and industry partners.
Increasing federal investments in drug manufacturing would also help wean the U.S. drug supply off foreign countries, according to the report. That might mean incentivizing domestic production or building academic-private partnerships to advance research and development capabilities.
Peters said he's planning to propose legislation to try to make these long-term recommendations a reality in the near future.
Rally bags $12M to build the future of e-commerce checkout
E-commerce had a moment during the global pandemic, but not only have things chilled since then, it's gotten downright competitive as the economy cooled in the past year, according to Jordan Gal, co-founder and CEO of Rally.
"Founders in this space used to speak of optimism, but that has turned into realism, and people are more careful," Gal told TechCrunch. "The pie seems to have stopped growing, and there's more ferocious competition for what's left in that pie."
Gal went on to explain that merchants are having to make harder decisions, including whether they can afford to invest in software.
That's why Rally, a composable checkout platform for e-commerce merchants, has broken up its business into two segments: the first to meet merchants where they are with integrations to commerce tools, like Salesforce Commerce Cloud, Magento and BigCommerce; the second to offer merchants a "headless" ecosystem.
The term "headless" refers to the ability to change the front end or back end of a website without affecting the other. Gal said he was not able to provide details just yet, but said Rally is close to announcing a partnership with companies specializing in front end and back end to offer headless-as-a-service.
Gal started Rally with Rok Knez to create checkout tools for merchants outside of the Shopify ecosystem. Both were previously involved with another checkout company, CartHook, and led the company to process nearly $3 billion in transactions for Shopify merchants before selling to Pantastic in 2021, Gal said.
Rally, which is working with 50 e-commerce merchants currently, provides one-click checkout with payment processing and tools for post-purchase offers that turns the purchase into a multi-revenue channel by allowing the merchant to inject offers after the checkout. For example, rather than going right to a "thank you" page, consumers would be offered the option of upgrading to a subscription or purchasing additional similar products in a way that doesn't interrupt the payment flow.
Implementing the post-purchase offer has helped merchants increase revenue by over 12% on average, Gal said.
Meanwhile, over the past 12 months, Rally has doubled the size of its team and is "doing millions in monthly GMV (gross merchandise volume)," Gal said.
TechCrunch previously profiled the company when it raised $6 million in seed funding. Today, the company announced additional funding of $12 million in Series A funding. It was led by March Capital, which was joined by Felix Capital, Commerce Ventures, Afore Capital, Alumni Ventures and Kraken Ventures. The new investment, which closed in the first quarter of 2023, gives Rally $18 million in total venture-backed capital.
Gal plans to focus the new funding on go-to-market, including entering new markets, like enterprise and international, and expanding integrations beyond Swell, BigCommerce and others, including Salesforce Commerce Cloud, commercetools, Affirm and AfterPay. Rally will also focus on strengthening its fraud protection offering and build out web3 features, starting with allowing merchants to accept cryptocurrencies in their checkout.
"We want to establish a reputation as the best choice when a merchant is looking to either upgrade their checkout or build a new site without having to build their own checkout," Gal said. "You can't just build it and leave it alone, so merchants are looking for a partner that they can trust so they can focus on what they're best at."
So you want to launch an AI startup
t seems like it's the best of times for founders thinking about launching an AI startup, especially with OpenAI releasing ChatGPT to the masses, as it has the potential to really put AI front and center in business and perhaps everything we do technologically. Who wouldn't want to launch a startup right now with the energy and hype surrounding the industry?
But it also could be the worst of times for founders thinking about launching an AI startup, especially one that can grow and be defensible against incumbents in a fast-changing environment. And that's a real problem for companies thinking about this area: AI is evolving so rapidly that your idea could be obsolete before it's even off the ground.
How do you come up with a startup idea that can endure in such a challenging and rapidly evolving landscape? The bottom line is that the same principles that apply to previously successful startups apply here, too. It just may be a bit harder this time because of how quickly everything is moving.
A bunch of successful founders and entrepreneurs spoke last week at the Imagination in Action conference at MIT. Their advice could help founders understand what they need to do to be successful and take advantage of this technological leap.
What's working?
CB Insights compiled data from 2021 and 2022 to understand where VC investment money has been going when it comes to generative AI startups. Given the recent hype around this area, it's reasonable to think that the volume of investment will increase, and perhaps the allocation will be different, but this is what we have for now.
New Zealander without college degree couldn't talk his way into NASA and Boeing—so he built a $1.8 billion rocket company
This story is part of CNBC Make It's The Moment series, where highly successful people reveal the critical moment that changed the trajectory of their lives and careers, discussing what drove them to make the leap into the unknown.
In early 2006, Peter Beck took a "rocket pilgrimage" to the U.S.
The native New Zealander always dreamed of sending a rocket into space. He even skipped college because of it, taking an apprenticeship at a tools manufacturer so he could learn to work with his hands, tinkering with model rockets and propellants in his free time.
By the time of his pilgrimage, he'd built a steam-powered rocket bicycle that traveled nearly 90 mph. He hoped his experiments were enough to convince NASA or companies like Boeing to hire him as an intern. Instead, he was escorted off the premises of multiple rocket labs.
"On the face of it, here's a foreign national turning up to an Air Force base asking a whole bunch of questions about rockets — that doesn't look good," Beck, now 45, tells CNBC Make It.
Still, he learned that few companies were actually building what he wanted to build: lightweight, suborbital rockets to transport small satellites. On the flight back to New Zealand, he plotted his future startup, even drawing a logo on a napkin.
Convincing investors to back someone without a college degree in an industry where he couldn't even land an internship wouldn't be easy. Failure would push him even further away from his lifelong dream.
Beck launched the company, Rocket Lab, later that same year. In 2009, it became the Southern Hemisphere's first private company to reach space. Today, it's a Long Beach, California-based public company with a market cap of $1.8 billion. It has completed more than 35 space launches, including a moon-bound NASA satellite last year.
Here, Beck discusses how he turned his disappointment into opportunity, the biggest challenges he faced, and whether he ever regrets his decision to create Rocket Lab.
CNBC Make It: When you didn't land an aerospace job in the U.S., you immediately started thinking about launching your own company. Why?
Beck: One of the things I'm always frustrated with is how long everything takes. Ask anybody who works around me: There's a great urgency in everything. I don't walk upstairs, I run upstairs. As we've grown as a company, it's always a sprint.
I wish things would get faster. I'm always battling time.
How do you recognize a window of opportunity opening, and when is it worth the risk to jump through it?
Back your intuition and go for it.
I would classify my job as taking an enormous risk and then mitigating that risk to the nth degree. Given that, you have to see windows of opportunity and run into them.
The challenge is that, especially within this industry, you have to poke your head into the corner but not commit too deeply. Otherwise, you'll get your head cut off. I start by being very analytical: "OK, we're here. What happened for us to get here? And how do we get out of here?"
Sometimes, you can take big risks. Sometimes, you need to be very safe and methodical about how to back out of situations. Control the things you can control and acknowledge the things you can't control.
Running a rocket company is kind of like that scene in "Indiana Jones," where he's getting chased by that giant ball. You have to flawlessly execute, because the moment that you don't, the consequences can be terminal for the company pretty quickly.
What do you wish you'd known when you decided to start your own rocket company?
At the end of the day, I probably wouldn't change anything. There were plenty of errors and failures along the way, but ultimately, those things create the DNA of a company.
Getting your first rocket to orbit is the easiest part. On rocket No. 1, you've got all your engineers and technicians poring over one rocket for a large period of time. Now, there's one rocket that rolls out of that production line every 18 days. That's just immensely more difficult.
Sometimes, it's really good to have a bit of a bad day. Not during a flight, obviously, but during testing. Just when you think things are going good, you're reminded of how hard this business really is. Every time that you take too much of a breath, you'll be humbled very quickly.
What's the biggest challenge you faced getting started?
Nothing happens without funding in this business. When I first started Rocket Lab, I ran around Silicon Valley trying to raise $5 million.
At that time, that was an absurd amount of money for a rocket startup. A rocket startup was absurd [in general], it was only SpaceX then. A rocket startup from someone living in New Zealand was even more absurd.
We grew up and tried to raise really small amounts of funding. That really shaped us about being ruthlessly efficient and absolutely laser-focused on execution. The hardest thing [we did] is actually the thing that shaped the company into the most successful form it could be.
When do you feel the most pressure?
The most terrifying thing I've ever done is the staff Christmas party. That's the moment you realize that your decisions are responsible for these people's livelihoods. As a public company, I take that even more seriously. It's a tremendous amount of pressure.
On top of that, you have a customer. That can be a national security customer, where lives are depending on you delivering that asset to orbit. It can be a startup, and there can be hundreds of people at a company that you can destroy just by putting the payload into the ocean.
So I absolutely hate launch days. Now that we've done 35 launches, I'm not puking in the toilet like I used to. But man, I still really don't enjoy it, because there's just so much invested in each launch. So much responsibility.