Jesus Gaskon: from plastic arts teacher to a great tattoo artist
Jesus Gaskon is a renowned and talented Spanish tattoo artist who has taken his art worldwide. Hundreds of clients from all over Europe travel to his studio in Valencia to show off a work of art made by his hands. With his innate talent, he transformed his life from being a plastic arts teacher to a renowned tattoo artist.
Born in Madrid, from a very young age, he showed interest and charm in drawing and painting. Moreover, he had an excellent aptitude for drawing, so he began to study art at the Faculty of Fine Arts in Valencia. After researching and obtaining one of the best averages and grades of his promotion, he decided to dedicate himself to teaching, to give classes in plastic arts and technical drawing.
After some time, teaching, he realized he did not feel fulfilled. So, years later, he became interested in the world of tattoos because he saw a way to express his creativity in that discipline.
In 2015, he decided to take the step and opened his tattoo studio in Valencia. After four years, he by Noble Art, a renowned studio in Valencia, considered one of the best in Spain. With this great opportunity in front of him, he did not hesitate and left his studio to become a professional tattoo artist in a studio with branches in Valencia, Zaragoza, Zurich, and New York.
Jesus Gaskon and his black-and-white realism
After experimenting with trends, Jesus Gaskon specialized in black-and-white realism. In this style, he makes original designs and creative compositions for clients. During the last three years and since he has been at Noble Art, he has grown as a tattoo artist. Today his clients are looking for him from all over Europe to get tattooed by him.
Being a specialist in this trend has also allowed him to travel to European countries such as Germany, Belgium, and Zurich. In these countries, he has been able to connect with prestigious studios as a guest artist eventually. His mission and vision are to provide customers with exclusive service so that they leave, in addition to a fantastic tattoo, a unique experience.
To see his work, you can follow him on his Instagram account @jesusgaskon.
The arrival of Polina Cohen in New York chasing her dream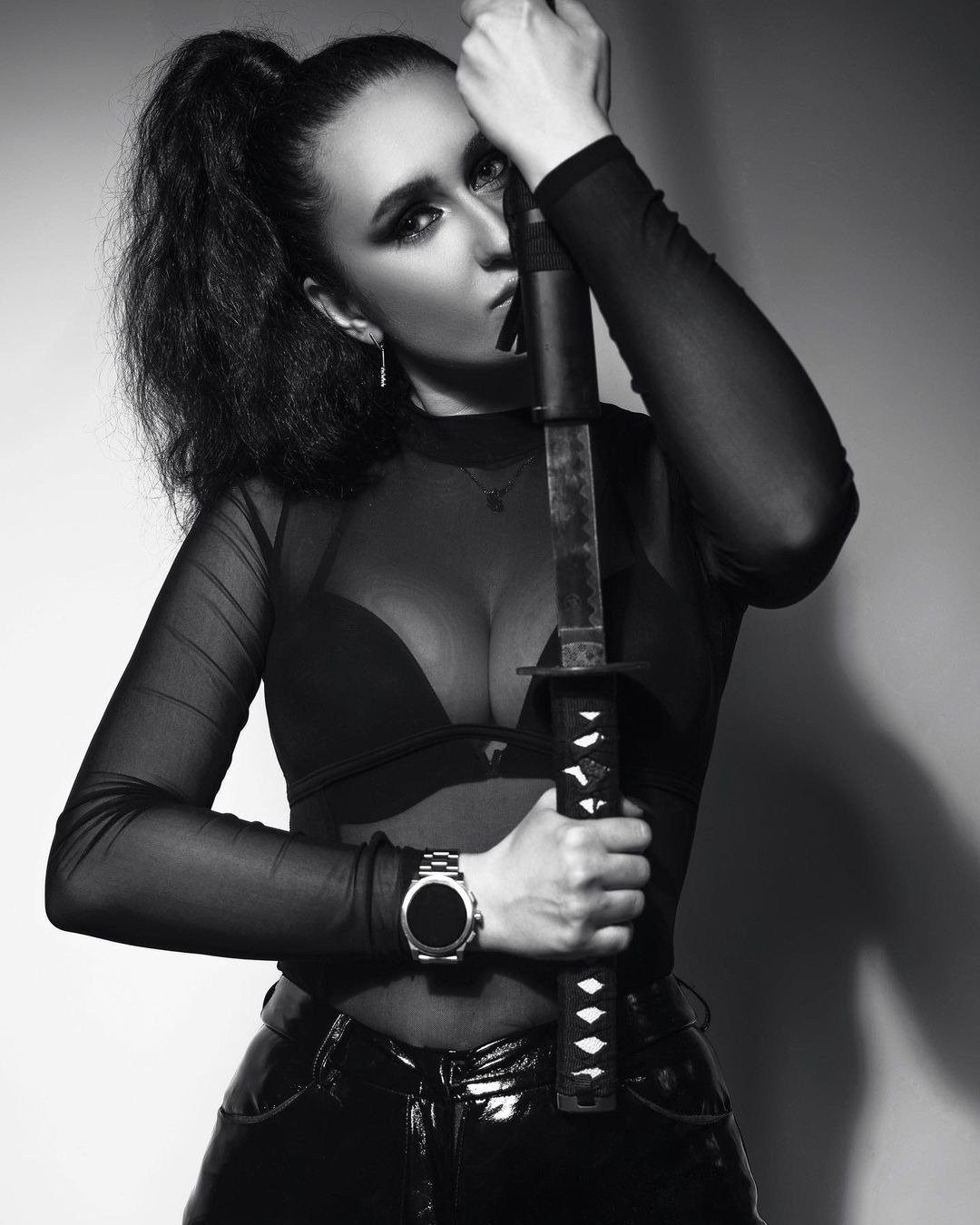 Polina Cohen is a tattoo artist born in Moscow, Russia, who at just 4 years old began her career in the world of plastic arts, taking her to study at art school and finally university.
In addition to her career in the institutional field of the arts, she began tattooing at the age of 17, despite the fact that, as a university student, she did not have the necessary resources to pay for the tools she needed as a tattoo artist. However, her friends observed the deep passion that Polina had for this art, who helped her buy her first machine and also allowed her to make her first tattoos. In this way, Polina Cohen realized that her true destiny in life was to become a tattoo artist.
Ella Polina Cohen knew that she wanted to be an independent tattoo artist, so she always had the goal of moving to New York, to become a renowned tattoo artist. However, her journey has been complicated, long and challenging, as Polina Cohen has had to work hard and learn as she goes through years of practice, which have helped her improve as an artist and as a person.
Polina Cohen has had to work in itinerant workshops, working in other areas, jobs that she finally decided to give up to dedicate herself full time to being a tattoo artist.
Within her experience, she has tried multiple tattoo styles, among which realism, watercolor, abstract and geometric stand out; she until she finally found the style that perfectly suited her vision as an artist, dark realism.
During the year 2021 Polina Cohen was all over the United States attending conventions, tattoo shows and as a guest to different places to learn new techniques and improve her style. This great predisposition to learn is what has allowed her to always be open to growth and become a highly professional and talented artist.
Polina Cohen began her career at a very young age, going from Fine Arts to finding her true passion in the world of tattooing. On this path, she ventured into one of her most complicated decisions, leaving her native country in search of her dreams, in order to become one of the best tattoo artists in the world; and with all her effort, and the rapid growth that she has had during these years, we know that she will achieve it.
The story of Vierwind: the Swiss painter who turned his color blindness into an opportunity
Micha Häni, better known by his stage name Vierwind, is a young man born in Bern, Switzerland, in 1994, who discovered in his red-green color blindness the perfect opportunity to create priceless works of art.
As a child, he knew and understood his visual impairment. An ophthalmologist told him to abandon his dream of becoming an artist and decorator because of his difficulty perceiving color. Still, his talent for drawing and painting helped him transform it into an opportunity. 
His first works were very colorful, but he discovered that if he painted only in red, which looked gray, he could create genuinely unique works.
Time has shown him that he can go very far with his art and talent. Vierwind has created art for the Swiss government, for musicians such as Xzibit and The Outlawz (Tupac Shakur's crew), and has worked with fashion brands such as Hugo Boss. 
The launching point of Vierwind career
Vierwind snuck into the graffiti scene as a way to drain, but when he discovered that his works went beyond that, he decided to embark on a formal path. He opened his first exhibition in Bern in 2018. And it resulted in the sale of his works, marking the beginning of his career as an artist.  
Currently, street art is not his main activity, but traces of this are still visible in his works. Vierwind has used the keyhole since his earliest works, becoming his trademark. Lettering, which he has been developing for many years, has always been a central element of his art. His most recent works transparently combine typography and motif.
Vierwind versatility has led him to collaborate with other artistic expressions. He works as a designer for a luxury agency called Rising. There he also has big projects planned for the future. In addition, he has made headlines in Switzerland for his role as a benefactor of the homeless. "I've always had a heart for the homeless. I buy them food or talk to them. We have to take care of each other."
If you want to know Vierwind's every step, find him on Instagram as @vierwind_
Russell Wilson quarterback coach Jake Heaps joins Broncos QB in Denver
PARKER, Colo. – On Thursday morning, Jake Heaps spent four hours on the radio airwaves in Seattle, wrapping up his final day as the co-host of a mid-day sports show.
Less than 24 hours later, he found himself walking between fields among roughly 500 campers at Colorado's Chaparral High School, in the market he'll be building the next phase of his career and life in.
Heaps hopped on a plane to get to the greater Denver area for the first of what will be many Russell Wilson Passing Academy camps, having worked with Wilson, the Broncos' new star quarterback, for the past five years.
Heaps, a Washington native who played quarterback for BYU, Kansas and Miami (Fla.) in college and who spent parts of three offseasons on NFL rosters, will continue to be involved in Wilson's Passing Academy but also will serve as Wilson's full-time, private quarterback coach.
"We've been doing stuff in the offseason and all that, but with him moving to Denver – for me, my home base was Seattle, so everything was just kind of worked out and it was nice and in sync. But I think to do what we want to accomplish and for Russell, what he wants to accomplish in his career over the next 10 years here in Denver, there's a lot of things we wanted to do not only for him and his career but for the Denver community from a training aspect and all that," Heaps told USA TODAY Sports on Friday. "It's a big change for me personally, but I'm excited to jump two feet in and to work with him super closely and do whatever I can to be at his best.
"That's what it's really about."
More Broncos:Russell Wilson already in touch with Broncos' future ownership group
Sign up for our NFL newsletter:All the NFL news you need to know delivered right to you!
Heaps and Wilson first crossed paths when Heaps spent an offseason on the Seahawks roster and then part of the 2016 campaign on the franchise's practice squad.
"I was on and off the roster for two years and we really just connected through the work," Heaps said. "He saw how hard I worked. I tried to beat him to the facility every day and we grew a bond through that. I got a random phone call from (Wilson) asking to fly out and come train him at UCLA and said sure. We've been together ever since. It's been really cool to have that friendship and to have that trust that he has in me and have honest conversations and to evaluate his game and do whatever I can to help him be better. Whether that's making things that he's struggled with better or just maintaining what he's doing.
"He's one of the best in the world, so it's not like you're wholesale trying to change everything every year, it's just trying to make him 1% better every year and find ways where he can be better and stay sharp and be on top of things."
Wilson, of course, is learning a new offense in Denver under first-year head coach Nathaniel Hackett, who has made it clear that the playbook building has been a collaborative effort between the offensive staff and the quarterback.
The system, though, is at least somewhat familiar to Wilson because he played for offensive coordinator Shane Waldron last fall in Seattle after Waldron coached the previous four years with the Los Angeles Rams under head coach Sean McVay. Hackett, meanwhile, spent the past three years with another member of that McVay and Kyle Shanahan coaching tree in Green Bay head coach Matt LaFleur.
"There's a lot of mental aspects of what you've got to work on and make sure (Wilson's) sharp on the new plays and new aspects of the playbook, testing him and quizzing him and all those things," Heaps said. … "There's familiarity there, but it's been really cool to watch everybody work together to mesh this thing and make everyone comfortable from the coaching staff to Russell to the guys on the team. It's been really awesome and, honestly, I'm blown away from where they are at this point in the offseason with the install and where everybody's at."
Before the offseason program began, Wilson hosted the Broncos' wide receivers plus center Lloyd Cushenberry at his home in Southern California to get several days' worth of work in and build chemistry. The quarterback said recently they'll be reconvening again next month before Denver's training camp begins July 27.
"We'll let guys get away. We've been going for 2.5 months now, it feels like, so we'll let the guys get away, spend family time, do whatever they need to do, travel, whatever it is," Wilson said. "The last couple weeks we'll really spend some time before we come back. We'll spend some quality time down in Southern California."
Wilson, like a few other top-tier quarterbacks, has built an operation around himself that is designed to help him excel despite all the time spent away from the facility. One week, between a Thursday OTA practice and a Tuesday practice, Wilson and his wife Ciara traveled to the Monaco Grand Prix and back. On another off weekend, he flew to Dartmouth College, the alma mater of his late father and several other family members, to give a commencement address. A couple weeks before that, he was at a Seattle Children's Hospital event on an off-day.
Joked teammate Melvin Gordon: "When you're making $30-some million a year, you can private jet around wherever you want. He's all about football, though, man. He's locked in. There's no other way to put it."
Wilson, for his part, described the importance of the people around him.
"Having an amazing team, my performance team comes with me everywhere I go. My assistant helps with everything," he said last week. "Everybody's super organized so there's never wasted space, and I think that's the key thing. There's never wasted space."
Heaps is a full-time member of that team now. He'll be in California for the offseason training sessions and then back in Denver to help Wilson get ready for the regular season. Simultaneously, he'll be part of the group that works to build out the RWPA camps, develop more high-end quarterback training opportunities here and continue to broaden the way Wilson's presence is felt in Denver.
"He wants to be great. He already is great, but what he wants to accomplish over the second half of his career, he wants it to be special and I think he has the ability to do that in Denver," Heaps said. "This organization has been fantastic from Day One with him and the guys have been fantastic. Obviously, this is the honeymoon phase and everything is great, everything's special, but I truly believe that they've got what it takes to really make some noise and accomplish the goals that they all have."