Miami preparing for third straight bowl game after 'grinding' regular season
Chuck Martin looks back at Miami's 2022 football regular season and simultaneously finds it frustrating, disappointing and rewarding.
Frustrating and disappointing because the RedHawks were expected to contend for the Mid-American Conference East Division championship and berth in the MAC championship game before finishing tied with Kent State for fourth place in the six-team division.
Rewarding, "in many ways," Martin said, because Miami came from behind twice in its last two games to pull out wins, 29-23 at Northern Illinois and 18-17 at home against Ball State, and finish 6-6 overall, qualifying for a bowl game that turned into an invitation to the HomeTown Lenders Bahamas Bowl against the University of Alabama-Birmingham of the Sun Belt Conference.
The RedHawks and Blazers (6-6) are scheduled to meet in the first game of the bowl season on Dec. 16 at 11:30 a.m. The game will be televised on ESPN.
It's been a grinding year," Martin, the nine-year Miami coach, said Tuesday.  "You lose your starting quarterback in the opener, and things are turned upside down. It was like were plodding through every week. There was no margin for error.
Offensively, we were challenged all year, but the kids kept playing. There were lots of reasons to not have hope. We had tons and tons of injuries.
hhis was one of the fastest seasons ever," he added. "There was always something."
Among the casualties was fourth-year junior quarterback Brett Gabbert, who was lost late in the season-opening 37-13 loss at Kentucky and again in the 37-21 loss at Ohio in Week 10. Redshirt freshman Aveon Smith took over both times and produced an overall 5-3 record. He rebounded  from being 12-for-36 at one point against Ball State to finish 18-for-46 and lead the RedHawks to two touchdowns in the final six minutes.
He's got to get better, but everybody rallied around him," Martin said. "He played his best football in those last two drives."
The Bahamas Bowl will be Miami's third straight and 14th overall – the fourth under Martin, who recalled the team's first appearance during his tenure. He led the RedHawks to the St. Petersburg (Fla.) Bowl in 2016, where they suffered a narrow, 17-16 loss to Mississippi State of the Southeastern Conference.
Martin, who ranks among the top 17 Football Bowl Subdivision coaches in terms of tenure with their current programs, has detected a change in Miami's culture.
T the frst bowl game we went to, it was like Mardi Gras around here," he recalled. "Now, we're 6-6 and going to the Bahamas Bowl, and it's not good enough, but the coaches and players stuck together and stuck together and stuck together and stuck together, and now we get what will be a once-in-a-lifetime experience. That's quite a reward."
Gabbert, junior offensive guard Caleb Shaffer and junior cornerback John Saunders Jr. won't be among the RedHawks making the trip to Nassau for the bowl game after entering the transfer portal on Monday. Martin remains intrigued while watching college football adjust to the new realities of transfers who can immediately play at their new venues and the impact of the name, image and likeness scenario. He was eager enough to bring it up on Tuesday without being asked.
Writers were saying that signing day has lost its luster, and that Monday was the biggest day in college football," he said. "A lot of people are saying it's terrible because there's no loyalty. Some of our kids aren't going to the Bahamas, but I'm not mad at them. They don't take their scholarships with them.
I was looking at high school tape, transfer tape and portal tape. Next thing I know, it's been 13 hours. I started at 7 a.m. and I looked at my watch and it was 8 p.m. It's become a thing where it's who can go the longest without sleep. We were talking college football on December 5 and nobody was playing.
"It's like Mardi Gras. It's like the wild, wild West. It's a circus."
US stocks tick upwards to end week higher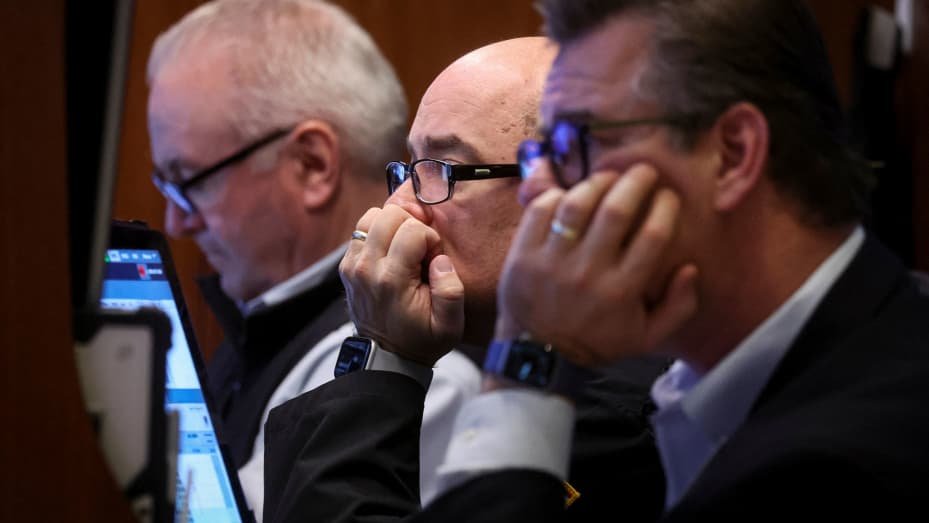 US stocks ended the week higher as investors weighed the latest batch of corporate results and economic data and looked ahead to the Federal Reserve's upcoming interest rate decision next Wednesday.
Wall Street's benchmark S&P 500 added about 0.2 per cent on Friday to gain 2.5 per cent for the week. The tech-heavy Nasdaq Composite finished almost 1 per cent higher on the day, bringing its advance over the past five sessions to 4.3 per cent.
Reporting season steps up a gear next week, but several well-known companies have in recent days provided results and outlooks for investors' consideration.
Oil major Chevron slipped 4.4 per cent on Friday as it reported record full-year earnings, but a decline in fourth-quarter profits from three months earlier. Credit card company American Express jumped 10.6 per cent after it reported a 25 per cent increase in full-year revenue to a record of almost $52.9bn and issued a better than forecast outlook for 2023.
Shares in Intel fell 6.4 per cent after the chipmaker said after close of trading on Thursday that revenue in the current quarter was forecast to come in about $3bn below analysts' expectations.
Shares of Tesla surged 11 per cent, adding double-digit gains for the second session in a row after Elon Musk signalled strong demand for the electric car maker's vehicles.
Read more on the day's market moves here
Share $US stocks tick upwards to end week higher on Twitter (opens in a new window)
Share $US stocks tick upwards to end week higher on Facebook (opens in a new window)
Share $US stocks tick upwards to end week higher on LinkedIn (opens in a new window)
U.S. Will Hit Debt Limit on Thursday, Yellen Tells Congress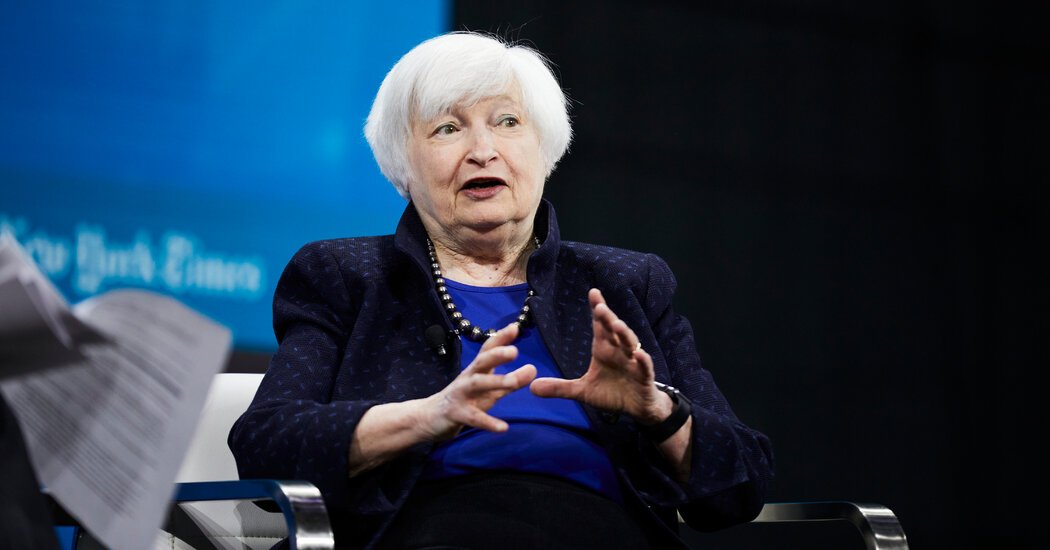 WASHINGTON — Treasury Secretary Janet L. Yellen warned on Friday that she would have to begin employing "extraordinary measures" on Thursday to continue paying the nation's bills if lawmakers did not act to raise the statutory debt limit and that her powers to delay a default could be exhausted by early June.
Ms. Yellen's letter to Congress was the first sign that resistance by House Republicans to lifting the borrowing cap could put the U.S. economy at risk and signals the beginning of an intense fight in Washington this year over spending and deficits.
"Failure to meet the government's obligations would cause irreparable harm to the U.S. economy, the livelihoods of all Americans and global financial stability," Ms. Yellen wrote.
Ms. Yellen said on Friday that considerable uncertainty surrounded how long she could use measures to delay a default. She said she would begin suspending new investments in the Civil Service Retirement and Disability Fund and the Postal Service Retiree Health Benefits Fund and suspending reinvestment of the Government Securities Investment Fund of the Federal Employees Retirement System Thrift Savings Plan this month to avoid breaching the debt limit.
The letter is the beginning of what is expected to be a protracted and potentially damaging economic fight. Republicans, who assumed control of the House last week, have insisted that any increase to the debt limit be accompanied by significant spending curbs, most likely including cuts to both the military and domestic issues.
Speaker Kevin McCarthy has cited reducing the national debt — which topped $31 trillion last year and has increased during both Republican and Democratic administrations, including about a 40 percent increase under former President Donald J. Trump — as a central focus of his party's agenda.
"The American people are the ones that's demanding the cut in spending," Representative Jason Smith, a Missouri Republican and the chairman of the powerful House Ways and Means Committee, said Friday on Fox News. "We have to have fiscal reforms moving forward. We cannot just give an unlimited credit card."
What is the debt ceiling? The debt ceiling, also called the debt limit, is a cap on the total amount of money that the federal government is authorized to borrow via U.S. Treasury securities, such as bills and savings bonds, to fulfill its financial obligations. Because the United States runs budget deficits, it must borrow huge sums of money to pay its bills.
The limit has been hit. What now? America hit its technical debt limit on Jan. 19. The Treasury Department will now begin using "extraordinary measures" to continue paying the government's obligations. These measures are essentially fiscal accounting tools that curb certain government investments so that the bills continue to be paid. Those options could be exhausted by June.
What is at stake? Once the government exhausts its extraordinary measures and runs out of cash, it would be unable to issue new debt and pay its bills. The government could wind up defaulting on its debt if it is unable to make required payments to its bondholders. Such a scenario would be economically devastating and could plunge the globe into a financial crisis.
Can the government do anything to forestall disaster? There is no official playbook for what Washington can do. But options do exist. The Treasury could try to prioritize payments, such as paying bondholders first. If the United States does default on its debt, which would rattle the markets, the Federal Reserve could theoretically step in to buy some of those Treasury bonds.
Why is there a limit on U.S. borrowing? According to the Constitution, Congress must authorize borrowing. The debt limit was instituted in the early 20th century so that the Treasury would not need to ask for permission each time it had to issue debt to pay bills.
On Monday, House Republicans adopted new rules governing legislation that make it more difficult to raise the debt limit and strengthen Republicans' ability to demand that any increase be accompanied by spending cuts. Senate Republicans have also insisted that increases to the debt limit should be tied to "structural spending reform."
"It's long past time for Washington to end the reckless spending of taxpayer dollars and start living within its means," Senator Rick Scott, Republican of Florida, said in a statement on Friday. "I look forward to working with House Republicans so we can stop caving to the Democrats, finally end Biden's raging inflation crisis and bring fiscal sanity back to Washington."
Some conservative economists have encouraged the tactics. Kevin A. Hassett, a chairman of the White House Council of Economic Advisers under Mr. Trump, warned in a National Review column this week that the total national debt could reach nearly double the size of the annual economy 30 years from now if Congress did not stop spending growth.
"Brinkmanship now is the only thing that can save us from catastrophe," Mr. Hassett wrote.
Top Democrats said on Friday that Republicans were threatening to damage an already fragile economy by risking a default.
"Once again, Republicans are demanding cuts to Medicare, Medicaid and Social Security, and if they don't get what they want, they're willing to tank the American economy, destroy a strong job market and jack up interest rates and inflation," said Senator Ron Wyden of Oregon, the chairman of the Senate Finance Committee.
President Biden has said that he will refuse to negotiate over the debt limit, and that Congress must vote to raise it with no strings attached.
Those positions increase the likelihood of a debt limit breach, one that could result in the United States defaulting on its debt for the first time.
To avoid that, the White House is increasingly counting on a coalition of bipartisan support to bypass Republican leadership in the House and lift the debt limit.
That group includes the entire Democratic caucus in the House and Senate, plus a handful of Republicans needed to pass bills in both chambers. Such a coalition could employ a rare tactic in the House, called a discharge petition, to force a floor vote on raising the limit. But the move would take weeks or even months to produce a bill that Mr. Biden could sign into law, which could threaten default if lawmakers misjudge the date when Treasury can no longer pay the nation's bills.
The closer the country gets to a potential default, the more damage the economy is likely to incur. Brinkmanship between congressional Republicans and President Barack Obama in 2011 resulted in higher borrowing costs for businesses and home buyers, along with plunges in stock markets and consumer confidence. An actual default could shock the economy into recession, as many government bills went unpaid, and saddle the nation with significantly higher borrowing costs for years to come.
After a protracted standoff in late 2021, Congress agreed to raise the borrowing cap to $31 trillion. Ms. Yellen has warned that breaching the debt limit and defaulting would do irreparable harm to the economy. She has dismissed suggestions and theories that the Treasury Department or the White House could lift the borrowing cap unilaterally as unrealistic and has called previously for the entire mechanism to be abolished.
"I respectfully urge Congress to act promptly to protect the full faith and credit of the United States," Ms. Yellen wrote in her letter.
White House and Treasury officials have repeatedly made the case that raising the debt limit merely allows the federal government to spend money that Congress has already authorized and that doing so is not a sign of fiscal recklessness.
Karine Jean-Pierre, the White House press secretary, repeated on Friday that Mr. Biden would not negotiate with Republicans on the debt limit and expected Congress to raise it in a bipartisan vote.
"This should be done without conditions," she said at an afternoon press briefing. "There is going to be no negotiation over it. This is something that must get done."
Despite Ms. Yellen's warning, many analysts and policymakers believe that a deal on the debt limit will ultimately be reached before it is too late.
"Today's notification from the Treasury Department is notable, but not cause for panic," said Shai Akabas, the director of economic policy at the Bipartisan Policy Center. "It is, however, time for both parties to get serious about negotiations."
He added, "In this time of ongoing inflation and economic anxiety, the last thing the American people need is the tumult of a back-against-the-wall debt limit fight or, much worse, a default on our obligations."
Wall Street analysts believe that House Republicans could ultimately save face and settle on a solution that would "suspend" the debt limit to a certain date without actually raising the borrowing cap to a specific level. This tactic, which was employed by former Speaker John A. Boehner in 2013 and 2014, would give the Treasury Department the leeway to keep the government running.
"At that time, unable to secure a specific dollar increase in the debt ceiling, Boehner came up with the idea of a 'suspension' of the debt ceiling through a specific date," Henrietta Treyz, the director of economic policy at Veda Partners, an investment advisory firm, wrote in a note to clients this week. "This avoided Congress voting on a net budget increase authorization and instead ceded authority to the Treasury Department to do essentially whatever it needed to do through a specific date."
Kristalina Georgieva, the managing director of the International Monetary Fund, told reporters on Thursday that she was hopeful that lawmakers would avoid a crisis over the debt limit this year.
"The discussions of debt limits are always quite intense," Ms. Georgieva said. "History teaches us that in the end, a solution is being found."
New York City chefs named semifinalists for 2023 James Beard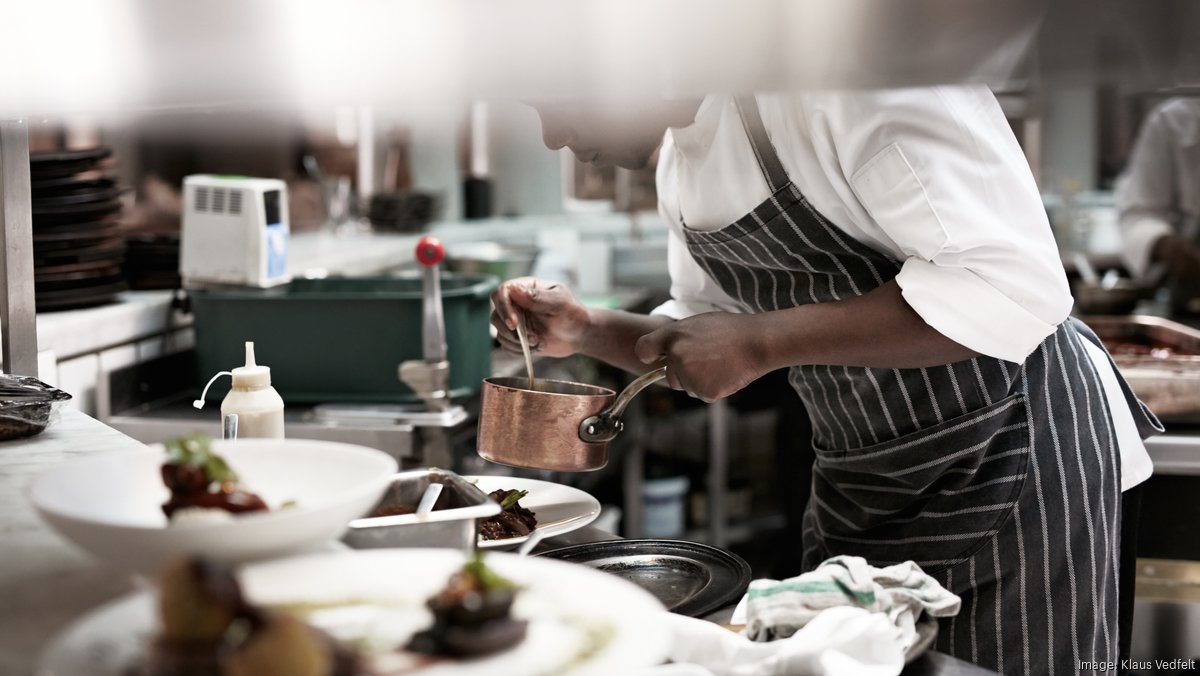 A slate of New York City-area chefs have been named semifinalists for the 2023 James Beard Awards, one of nation's most prestigious honors in the culinary and food media industries.
Recognized in the category of Outstanding Chef were Eder Montero and Alex Raij of Spanish restaurant La Vara in Brooklyn, as well as Erik Ramirez of Brooklyn Peruvian restaurant Llama Inn.
Semifinalists for Outstanding Restaurant included East Village Ukrainian eatery Veselka and West Village Italian trattoria Via Carota.
The James Beard Foundation's Restaurant and Chef Awards, established in 1990 and first awarded in 1991, are one of five separate recognition programs of the awards. The 2023 Restaurant and Chef Semifinalists are recognized across 23 categories.
This year the foundation added a new award for Outstanding Bakery. Among the semifinalists for that category was She Wolf Bakery.
Other New York-area semifinalist chefs and restaurants are:
Nominees will be announced on March 29, and winners will be named at the James Beard Restaurant and Chef Awards Ceremony on June 5 at the Lyric Opera of Chicago.