Pop singer Van Hechter and super producer Villagomez team up to create a brand new summer anthem "Love In Miami"!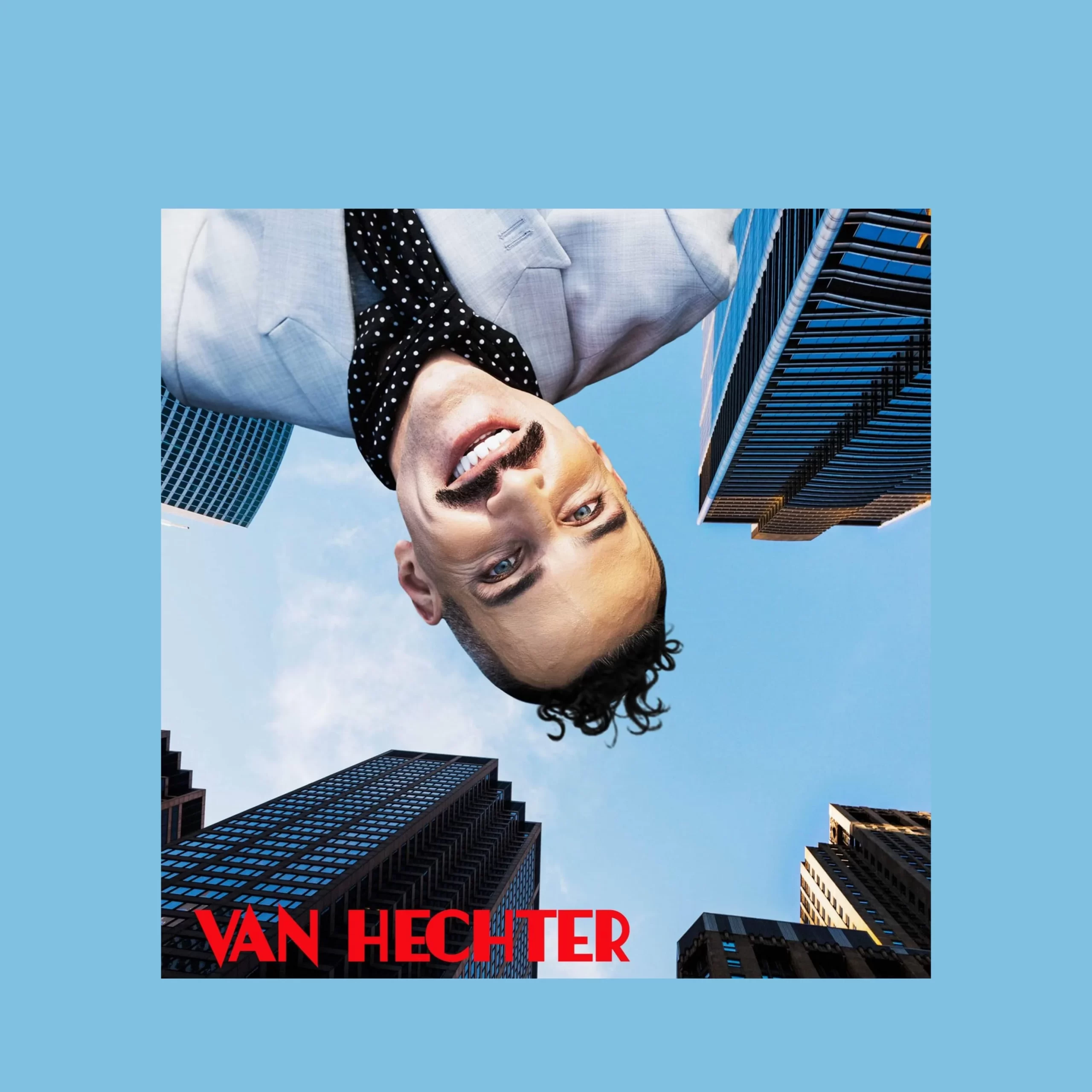 Villagomez is a musician, a DJ, but also a very promising new producer… He is young, fresh, bursting with ideas… Van Hechter- for those who don't know him— is like– the "Crooner of New-Disco"… Stylish- stylized, even- with a specific voice that has deep color to it- and the ability to write 3-leveled lyrics; he always leaves us wanting more… The face value of him is glitzy and comedic but the more one listens to his songs- the more one realizes how deep and sophisticated he is… We caught up with him in Miami as he was wrapping up 2 video shoots- on his way back to Montreal where he is based…
– Tell us about the new single and its release…
It's the first of 4, title is "Love In Miami". It's a UK House inspired Disco track. Sohhhh much fun writing/producing it. Pre-release party happens in Montreal on June 10th- (Carré Gaspé rooftop for those who know the city)… Villagomez and I are thrilled to throw a bash in our own town! Jean-Olivier Laguerre is at the head of operations. He's a FANTASTIC party promoter. Like- he's a bigger star than I am, hahahahahh! Of course from there the song will travel. It will be launched simultaneously in NYC: DJ Chauncey Dandridge will play it as we do. The whole thing will be FANTASTIC!
– Why did you associate with Villagomez for this particular project?
We'd been wanting to associate for a long time! But often times in the arts- time tables conflict… I've always felt like- at some point- we'd get together to make magic- and I think we did. But we'll let the fans be the judges of that! – What do you want people to get from this single— and from the EP that will follow? Honestly: pure joy, a desire to live, to laugh, to party, to dance, and to love life. That's our only goal; to generate joy and optimism.
– Did you fall in love in Miami? When do I not fall in love in Miami- or in Florida for that matter??? Hah! But the song is about one specific fiasco I now find hilarious. I was indeed madly enamored… It was torrid, passionate, exhilarating… And it ended as violently and abruptly as it had started. I went through the highest high then the worst crash. I felt like: "WOW this is like living in a soap opera!"- which was a very funny way of looking at the situation- absolutely worth writing about in a song as it was so extreme. – Tell us something about Villagomez that people can't know at first sight… He is very very strong. I think his youth and boyish looks may be misleading at times. But beware- his soul has the power to move mountains. He can do almost anything he sets his mind to. I admire that enormously.
While we wait for the new song, here are a few Van links we think you may like to follow…
https://www.instagram.com/vanhechter
Applying for FEMA assistance after flooding, 2 skiers hurt in Tahoe avalanche Google lays off 12K workers
The latest breaking updates, delivered straight to your email inbox.
KCRA 3 is rounding up all the information you need to know to get a head start on your day.
Here you'll find what you missed overnight, what's happening throughout the day, the forecast and how your commute is shaping up.
You can also watch our morning newscasts live from 4-10 a.m. here.
Affected by flooding in San Joaquin County? Here's how to apply for FEMA assistance | The Federal Emergency Management Agency, or FEMA, added San Joaquin County to its major disaster declaration for the State of California, now allowing individuals and households in the county to apply for financial help and direct services. This comes after floodwaters devastated parts of the county, such as Acampo and Woodbridge, by damaging homes and flooding streets this week. Read more here.
Carjacker kills 2 women in south Sacramento collision near Florin Road, officials say | Two women are dead after a man in a stolen SUV ran a red light and crashed into them, Sacramento officials said. That man, who was later found to be under the influence, was arrested while he was trying to steal another vehicle. Read more here.
2 skiers hurt in backcountry avalanche near Tahoe resort | Two backcountry skiers were sent to nearby hospitals Thursday in an avalanche outside the boundaries of a Lake Tahoe ski resort. Both skiers were transported to area hospitals for treatment of unknown injuries suffered near Heavenly Mountain Resort in South Lake Tahoe, California. There was no immediate word on their condition. Read more here.
GoldenSky organizers excited to expand Sacramento country music festival | The lineup for the GoldenSky Country Music Festival, one of Sacramento's newest — and already buzzing — music festivals, is out and organizers are already energized for the October event. The event debuted last October, bringing roughly 50,000 people to Discovery Park for two days of music, organizers said. Read more here.
'The country is here for you': President Biden vows to help California rebuild after storms | President Joe Biden said after touring California storm damage by air and on foot Thursday that the federal government is committed to helping the state recover from mudslides, flooding and other impacts. Read more here.
Google cutting 12,000 jobs as tech industry layoffs widen | Google is laying off 12,000 workers, becoming the latest tech company to trim staff after rapid expansions during the COVID-19 pandemic have worn off. CEO Sundar Pichai shared the news Friday in an email to staff at the Silicon Valley giant that was also posted on the company's news blog. "Over the past two years we've seen periods of dramatic growth," Pichai wrote. "To match and fuel that growth, we hired for a different economic reality than the one we face today." Read more here.
T-Mobile says data on 37 million customers stolen | U.S. wireless network T-Mobile says hackers have stolen data on 37 million customers. It says the breach occurred in late November and was discovered Jan. 5. The company said Thursday in a regulatory filing that the unidentified intruder obtained data, including addresses, phone numbers and dates of birth. T-Mobile said the exposed data did not include bank account or credit card information, Social Security numbers or other IDs or passwords. Read more here.
President Biden on classified docs discovery: 'There's no there there' | A frustrated President Joe Biden said Thursday there is "no there there" when he was persistently questioned about the discovery of classified documents and official records at his home and former office. "We found a handful of documents were filed in the wrong place," Biden said to reporters who questioned him during a tour of the damage from storms in California. "We immediately turned them over to the Archives and the Justice Department."
Read more here.
Supreme Court says it hasn't found abortion opinion leaker, but investigation continues | Eight months, 126 formal interviews and a 23-page report later, the Supreme Court said it has failed to discover who leaked a draft of the court's opinion overturning abortion rights. The report released by the court Thursday is the apparent culmination of an investigation ordered by Chief Justice John Roberts a day after the May leak of the draft to Politico. At the time, Roberts called the leak an "egregious breach of trust." The leak touched off protests at justices' homes and raised concerns about their security. And it came more than a month before the final opinion by Justice Samuel Alito was released and the court formally announced it was overturning Roe v. Wade. Read more here.
What Is the Polar Vortex? And Other Cold-Weather Climate Questions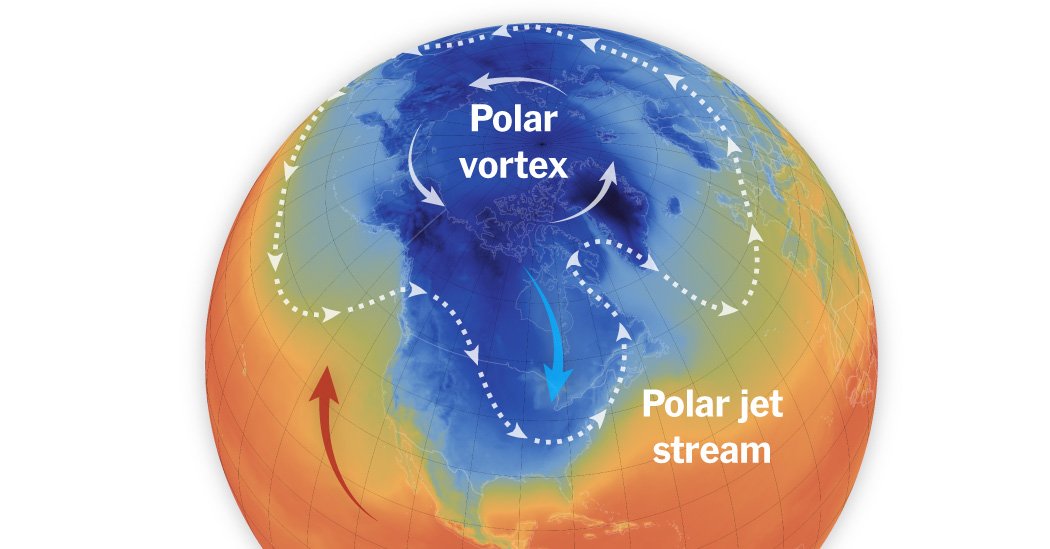 The polar jet stream, which encircles the polar vortex, can get wavier and shift southward.
Source: Climate Reanalyzer, Climate Change Institute at the University of Maine, using forecasts from the National Centers for Environmental Prediction Global Forecast System.
By Elena Shao/The New York Times.
Fountain lives in Albuquerque, where during the big freeze of February 2021 the temperature went from 55 to 7 degrees in 18 hours.
The polar vortex is descending on the midsection of the United States, bringing bitterly cold Arctic air and causing temperatures to plunge rapidly in many areas. The deep freeze will be accompanied by a major snowstorm that is expected to cause travel chaos.
The vortex is a large rotating expanse of cold air that generally circles the Arctic, but occasionally shifts south from the pole. Vortex-related cold snaps occur regularly in the United States. One of the most damaging occurred in February 2021, when the frigid air reached deep into Texas, resulting in temperatures that were as much as 40 degrees Fahrenheit below normal.
That freeze led to at least 250 deaths and caused extensive damage to the state's power infrastructure.
As global emissions of heat-trapping carbon dioxide continue, the Arctic is warming nearly four times faster than other parts of the planet, according to the latest analysis, and the region's sea-ice coverage is shrinking. So when the vortex meanders southward, two basic questions arise. What role, if any, does climate change play? And will extreme freezes increase as warming continues?.
The short answer: Scientists aren't sure, yet. There are clues, but still more to learn.
"I wish I had a clear answer," said Steve Vavrus, a climate scientist at the University of Wisconsin. With Jennifer Francis, now at the Woodwell Climate Research Center in Massachusetts, Dr. Vavrus wrote a seminal 2012 paper that presented the idea that Arctic warming was affecting the polar vortex. "Unfortunately the state of things is still ambiguous," he said.
The vortex is a mass of high-altitude, rotating air that, as the term suggests, occurs over the North Pole region. (There are actually two vortexes, one in the Arctic, the other in the Antarctic, but only the northern one affects weather in the Northern Hemisphere.)
The vortex strengthens and becomes much colder in winter, because with the Northern Hemisphere tilted away from the Sun at that time of year, little or no sunlight reaches the Arctic to warm it up.
If you were looking down at the North Pole, the air would look like it was rotating counterclockwise. Some scientists have compared it to a spinning top. The vortex is encircled by the polar jet stream, a band of winds that blows from west to east around the planet.
In normal conditions, the vortex is stable and confined to the Arctic. But just as a spinning top can start to wobble and drift if it bumps into something, the vortex can be disrupted. It is accompanied by changes to the jet stream, which develops a wavy, snakelike pattern as it circles the globe.
Sometimes the vortex splits into several fragments that move southward. Sometimes, as appears to be the case this week, it becomes stretched, like a rubber band. Either way, the disruption can have several major effects.
Temperatures in the atmosphere over the Arctic can rise, sometimes dramatically. At the same time, the frigid Arctic air moves southward.
If the movement is rapid enough, temperatures in the areas exposed to the mass of cold air can fall by tens of degrees within hours, and can stay extremely low for days or even weeks until the vortex becomes stable again in the North Pole region.
For climate scientists, this is the crux of the debate.
Some scientists say Arctic warming is causing disruptions in the vortex, through the changes in the polar jet stream. Others say that modeling suggests naturally variable factors are driving disruptions instead and that an increase in vortex disruptions that occurred previously — including a noticeable uptick in the 2000s — has not continued.
Judah Cohen, a climate scientist at Atmospheric and Environmental Research, a weather-risk assessment firm in Lexington, Mass., is an author of that linked the 2021 Texas freeze to Arctic warming. He sees the same thing happening now.
The basic idea, he said, is that the warmer conditions create larger and more energetic atmospheric waves that make the jet stream wavier, with greater peaks and troughs. That affects the polar vortex circulation.
To use the spinning top analogy, "it's like if it started banging into things," he said. "It loses its nice circular shape and in this case becomes more stretched out." One lobe stretches down into Canada and the United States, bringing an outbreak of cold weather.
Dr. Cohen said he's been studying the subject since 2005, and is more confident than ever about the link to changes in the Arctic. "The evidence is only growing," he said.
Other scientists are not as certain.  the journal Nature Climate Change in 2020, two researchers at the University of Exeter in England wrote that, although Arctic warming and sea-ice loss were continuing, the short-term trends in cold extremes, jet-stream waviness and other climate-related measurements in the 1990s and 2000s "have not continued over the past decade," weakening the argument that rising temperatures in the Arctic were the culprit.
Some experts suggest that rather than warming, other naturally variable elements of the earth's climate may be affecting the vortex. Among these, said Ted Shepherd, a climate scientist at the University of Reading in England, are sea-surface temperatures in the tropical Pacific Ocean, which can drive changes to air masses in the Arctic that disrupt the jet stream and vortex.
Scientists say that questions over what role Arctic warming may play in extreme cold snaps is an example of the kind of healthy climate-change debates that occur now. It's not about whether climate change is real — that question has been answered — but what kinds of effects it has, how severe they are and whether they will worsen as warming continues.
Most scientists view this debate as an important one that is still underway. Dr. Vavrus said that some aspects "are on pretty solid physical footing." Among these, he said, is the idea that Arctic warming, by reducing the temperature difference between the Arctic and the tropics, has weakened the jet stream winds. But other aspects, including whether and where warming is making the jet stream wavier, "are the things that we've really been wrestling with and remain uncertain," he said.
Watch: Planned Parenthood CEO: Ensure Reproductive Rights for Health and Economic Equity
Alexis McGill Johnson shared insights at the U.S. News State of Equity in America forum.
Ensuring and expanding access to abortion, birth control, contraception and a full range of sexual and reproductive health care is essential to one's health and economic well-being, said Alexis McGill Johnson, president and CEO of Planned Parenthood, in a discussion at the recen.
At the event, thought leaders and experts from business, government, health, the nonprofit world and other sectors came together to highlight solutions to address economic and health inequities across the country, with a special focus on New York.
"We know that particularly for women, particularly for women of color, the ability to plan when and if you will become a parent is a critical part of maintaining your ability to stay.
Planned Parenthood plans to "continue to fight state by state as we need to" for abortion rights, she said.