Returns to the Office Raise Mental Health Challenges – The New York Times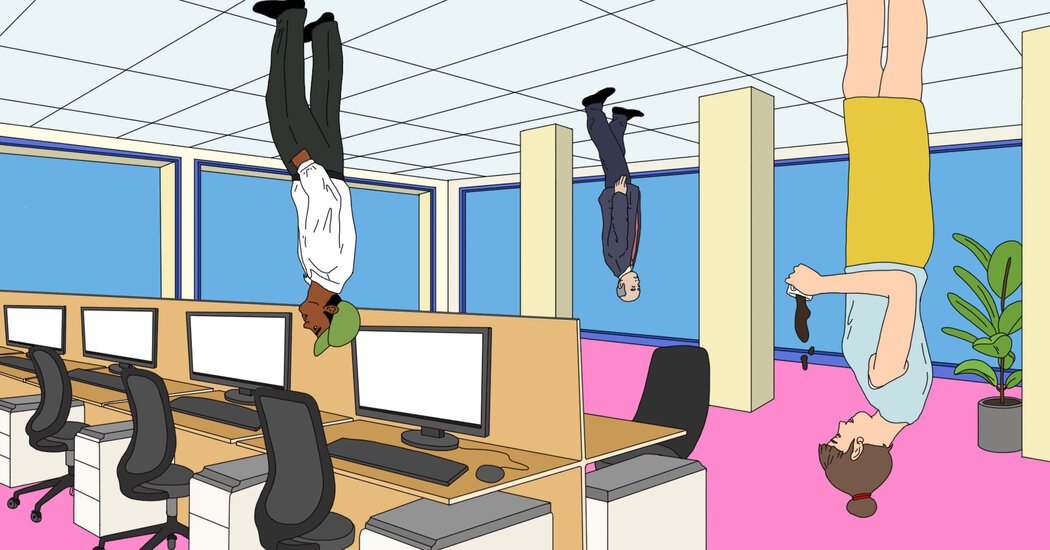 Advertisement
Supported by
Supervisors are called on to help people navigate personal challenges, whether or not they have the training to do so.
Send any friend a story
As a subscriber, you have 10 gift articles to give each month. Anyone can read what you share.
By Emma Goldberg
To hear more audio stories from publications like The New York Times, download Audm for iPhone or Android.
It's exceptionally difficult to get someone to crack a smile, let alone laugh, in a corporate event hosted on Zoom, but the comedian Dani Klein Modisett finds ways. One game she likes to play during her laughter workshops involves asking participants to each name five items in a category — for example, things in their refrigerator — as fast as they can, after which everyone else chants: "Those are five things!" Eventually people loosen up. They start giggling. (Maybe you had to be there.)
But in recent months she has noticed attendees logging in to the sessions more tense than ever. Some arrive looking for levity, but also processing tragedy.
"I'm glad I showed up," one participant said. "But my brother-in-law just died."
People are going into performance reviews, brainstorming sessions and the office with all kinds of grief, swinging between the banal and the crushing. Small problems feel large. Large problems feel colossal. And with mental health care hard to obtain and afford, workers are trying to fill the gaps.
"There's this sense of 'I don't know how much longer I can keep doing this,'" said Ms. Klein Modisett, whose organization, Laughter on Call, has run over 350 events since its founding three years ago. "We want to hold out the possibility we can laugh, but it's all becoming too much."
Even the most scripted Hollywood event went sideways, its typical polish replaced with raw emotion: a slap from one of the film industry's biggest stars.
"We're all feeling our way around being together when we don't know what each other's state of well-being is," said Chantalle Couba, 46, a diversity, equity and inclusion consultant in North Carolina. "You go to a three-day off-site — or to the Oscars — and you find out people are different. People are threadbare. They're very anxious."
For the past two years, people have struggled to do their work — whether in hospitals or restaurants, in shops or schools — while knotted up with the fear and uncertainty of the Covid-19 crisis.
For the subset of Americans who had the luxury of working from home, their professional lives mirrored their personal ones: upended. They answered emails from their couches, spoke to teammates on Zoom and refashioned daily schedules to accommodate this new remote-work era.
Now, some have gotten the message that their employers are trying to restore an old status quo. Dozens of companies are calling workers back to the office: Microsoft, Goldman Sachs, Chevron, The Washington Post. And some worry that their teams aren't prepared for the emotional transition awaiting a work force already on edge.
"Gone are the days of put your head down," said Desiree Coleman-Fry, a diversity, equity and inclusion executive.
In a McKinsey study of more than 2,900 people last year, one-third of those who had just returned to the office said going back had negatively affected their mental health. The will-they-won't-they saga of office reopenings hasn't helped, making it tough to prepare for a new routine.
For some workers, there's the difficulty of giving up habits they formed at home; for others, there's the prospect of facing slights, insensitive comments and cliques. And many, knowing that they've changed in the last two years, don't feel ready to get reacquainted with their teams.
"So much of our humanity has been exposed," Ms. Klein Modisett said. "There's kind of no turning back. We can't put the genie back in the bottle."
But the workaday duties drag on, sometimes in jarring contrast to the magnitude of world events. For Kelly McComas, 25, a designer in Brooklyn, the dissonance between following crises in the news and fulfilling her professional obligations is clearest at the start of her meetings. On a recent video call with a team in Poland, she said, the opening moments of the conversation made clear that nobody knew how to discuss Russia's invasion of Ukraine.
"We kick off a meeting and ask how everything's going, and they're like, 'Well, there's a war,'" Ms. McComas recalled. "And we're like, 'Yeah, there's a war.' And then we go into the design meeting."
Supervisors are finding that they are called on to help people navigate personal challenges, whether or not they have the training to do so. Kim Theobald, head of human resources at RCM&D, an insurance brokerage, started facilitating a weekly call for managers, giving them space to raise questions about how to support workers.
"I've had a lot more employees reach out to me due to their anxiety, often saying they can't pinpoint the reason for it," Ms. Theobald said. "I've had phone calls from managers saying, 'This is what I did, and I hope I handled it correctly.'"
Some companies are trying to directly address mental health challenges that their staff may be facing. Arrivia, a travel business, said use of its "employee assistance" program, which provides no-cost therapy, had increased tenfold since the start of the pandemic. The company has also surveyed workers about their needs around returning to the office and has written up a plan that puts a priority on flexibility, allowing many people to work from home if they prefer.
Real, a mental health app that offers programming on topics including relationships and body positivity, plans to pilot a four-day workweek, running next week through June, to give employees more time to rest and focus on their families. The idea came from Real's founder, Ariela Safira, who recognized after the December holidays that she was experiencing a sense of numbness fueled by overwork.
Like Ms. Safira, many mental health professionals are finding this moment just as hard as the clients they serve do. April Koh, founder of Spring Health, a mental health start-up that offers employees access to therapy and other services, recently realized she hadn't fully dealt with her own pain after being targeted with a racial slur on a street in New York. When her team planned a healing circle to discuss anti-Asian violence, which has increased during the pandemic, Ms. Koh surprised herself as she wrestled publicly with questions about her personal history.
"I hadn't expected to be so emotional," she said. "There is kind of a shared mentality, to an extent, among Asian Americans about keeping our head down and staying invisible. It was powerful for me to be so vulnerable."
She worries that many businesses, which had never before made an effort to address their staff's mental health, still aren't being proactive in helping people take care of themselves, especially with insurance plans often offering paltry mental health coverage. The average wait to see a provider was more than 20 days nationally even before the pandemic.
"Some companies take the posture where they say: 'We're resilient. We're all about business. That's what we're going to focus on,'" Ms. Koh said. "That's just not the way to solve problems."
Apps and even paid time off can do only so much. For many, the angst runs deep, exacerbated by the emotional gap between their work responsibilities and the realities of 2022. Business leaders may talk often about authenticity, yet many of their employees are unsure how to present themselves to colleagues when they're struggling.
"It feels crazy to be expected to keep your cool and go on with your life," Ms. McComas said. "I don't know if I can bring my full self to work anymore because it feels so disingenuous with what's happening outside work."
And the vocabulary of the workplace is expanding, as managers try to find the language needed to check in on employees. They're learning to ask about challenges that go beyond deadlines and deals, conversations that don't always feel natural in a sterile office environment.
Jennifer Strauel, head of human resources at Arrivia, has heard from employees who experienced sickness, relationship breakdowns and the loss of loved ones.
"We're getting comfortable using words about feelings instead of just concrete business topics," Ms. Strauel said.
Audio produced by Adrienne Hurst.
Advertisement
Can Joe Manchin Broker a Debt Deal as Republicans Try to Unseat Him? – The New York Times
Advertisement
Supported by
The centrist West Virginia Democrat, who faces re-election in 2024, has made it clear he believes he can help broker a compromise to raise the debt ceiling.
Send any friend a story
As a subscriber, you have 10 gift articles to give each month. Anyone can read what you share.
By Luke Broadwater
WASHINGTON — As Democrats unleashed relentless criticism against Speaker Kevin McCarthy last week, portraying him as a reckless politician willing to force the country into default and slash bedrock entitlement programs, one of their own spoke up in the top Republican's defense: Senator Joe Manchin III of West Virginia.
Mr. Manchin emerged from a one-on-one meeting with Mr. McCarthy on Wednesday insisting that the House Republican leader had assured him that he would not demand cuts to Social Security and Medicare as a condition of raising the debt ceiling — and in fact was interested in a reasonable compromise.
"Kevin McCarthy's nature is to want to show some really good leadership," Mr. Manchin said in an interview.
It was concrete evidence that Mr. Manchin, the centrist who has been both a thorn in the side of his fellow Democrats and a pivotal player in many of their achievements over the past two years, is positioning himself to play a major role in forging a deal in a divided Congress to avert a looming fiscal crisis.
In doing so, he is once again breaking with President Biden, who has said he will not negotiate over raising the debt limit — a position that Mr. Manchin has called "a mistake" — and undercutting his party's message, which has been to cast Republicans' plan to block a debt-limit increase without deep spending cuts as one that could, in Mr. Biden's words last week, "wreck our economy."
"We're going to have to bring a group of Democrats together that is willing to work and meet him halfway," Mr. Manchin said of Mr. McCarthy in an interview, adding that he has been in conversations with centrists in the House who could be part of such a coalition. "I think we all know that we're going to vote for the debt ceiling. It just depends how much how much punishment goes on as we go down that road, and how much blame can be laid upon somebody.
"I'm trying to avoid an embarrassment that makes the United States look like the kind of country we don't want to be," Mr. Manchin said.
What is the debt ceiling? The debt ceiling, also called the debt limit, is a cap on the total amount of money that the federal government is authorized to borrow via U.S. Treasury securities, such as bills and savings bonds, to fulfill its financial obligations. Because the United States runs budget deficits, it must borrow huge sums of money to pay its bills.
The limit has been hit. What now? America hit its technical debt limit on Jan. 19. The Treasury Department will now begin using "extraordinary measures" to continue paying the government's obligations. These measures are essentially fiscal accounting tools that curb certain government investments so that the bills continue to be paid. Those options could be exhausted by June.
What is at stake? Once the government exhausts its extraordinary measures and runs out of cash, it would be unable to issue new debt and pay its bills. The government could wind up defaulting on its debt if it is unable to make required payments to its bondholders. Such a scenario would be economically devastating and could plunge the globe into a financial crisis.
Can the government do anything to forestall disaster? There is no official playbook for what Washington can do. But options do exist. The Treasury could try to prioritize payments, such as paying bondholders first. If the United States does default on its debt, which would rattle the markets, the Federal Reserve could theoretically step in to buy some of those Treasury bonds.
Why is there a limit on U.S. borrowing? According to the Constitution, Congress must authorize borrowing. The debt limit was instituted in the early 20th century so that the Treasury would not need to ask for permission each time it had to issue debt to pay bills.
In a town known for its cynicism and toxic partisanship, Mr. Manchin's determination to be the broker of an improbable fiscal deal is the latest evidence of his almost quixotic confidence in his ability to bring rival factions together on any issue. (In the past he has expressed shock and dismay after he couldn't convince Republicans to investigate the Jan. 6, 2021, attack on the Capitol or streamline the permitting of energy projects.)
"Manchin believes with all that is within him that if he could just get everybody in the room and lock the door and order pizza, that he can get a deal," says Hoppy Kercheval, a radio host who is known as the dean of West Virginia broadcasters.
It's a trait that can be infuriating to Mr. Manchin's Democratic colleagues, and one that leads to a curious political disconnect: The Democrat in Congress most eager to ally himself with Republicans is the same one they are targeting most intensely for defeat.
Senate Republicans have rolled out an aggressive ad campaign against the West Virginia senator who is up for re-election in 2024, declaring war on the man they have dubbed "Maserati Manchin" — a reference to his expensive sports car — as part of a pressure campaign designed to dissuade him from seeking a third term.
Mr. Manchin was not surprised, he said in an interview. "The toxic part of this political process is, whoever's in cycle is the enemy."
For now, he is being coy about his political future.
"I haven't decided," he said, "whether I run for Senate or whether I'm taking on a new adventure in life. I really haven't. I'm not ready to make a decision yet."
His Senate seat, in a deep red state that former President Donald J. Trump carried by about 39 percentage points, is now the most coveted target for Senate Republicans, who believe they can take back the chamber by picking off Mr. Manchin and two other Democratic senators from more conservative states: Senator Jon Tester of Montana (where Mr. Trump won by 16 percentage points) and Senator Sherrod Brown of Ohio (where Mr. Trump won by 8 percentage points).
Mr. Manchin's Republican opponents have been queuing up to take him on. Governor Jim Justice — who has vacillated between being an ally and a foe of Mr. Manchin throughout his career and once fired Mr. Manchin's wife, Gayle — says he is "seriously considering" a run for Senate, and Representative Alex X. Mooney, who is further to the right, has already announced his candidacy.
But even as they attack him, Mr. Manchin says Republicans in Congress are still working on him "every day" to switch parties, though the requests no longer come from Senator Mitch McConnell, the top Senate Republican from Kentucky, whose relationship with Mr. Manchin grew strained last year.
"McConnell's given up, he's tried so many times," Mr. Manchin said.
In the interim, Mr. Manchin has an outsized share of leverage in Washington. Both Mr. Biden and Senator Chuck Schumer, the New York Democrat and majority leader, badly need Mr. Manchin to seek a third term if they hope to preserve Democratic control of the chamber, a strong incentive to keep the former West Virginia University quarterback happy.
Mr. Manchin says he has been watching the polls closely. He knows when he has opposed Mr. Biden, his numbers shot up in West Virginia. When he agreed with the Biden agenda, his ratings declined.
At no time was this more evident than when he backed the party-line climate and tax legislation, which aims to counter the toll of climate change on a rapidly warming planet, takes steps to lower the cost of prescription drugs and revamps portions of the tax code to pay for it all.
"He knew it was going to be really hard on his approval ratings," said Senator John Hickenlooper, Democrat of Colorado. "And he knew he was going to be up for re-election. And yet he did it because he thought it was the right thing for West Virginia and the right thing for this country."
As such, Mr. Manchin has lately undertaken a rebranding tour about the bill, which was called the Inflation Reduction Act but was mostly hailed as an environmental success. In media interviews and public appearances, Mr. Manchin, who has a personal financial interest in the coal industry,  has sought to reframe legislation he helped draft as a domestic "energy security" bill whose primary goal is to ensure the United States doesn't need to rely on other nations for fuel; he emphasizes that it ensures drilling in the Gulf of Mexico, requires the federal government to auction off more public lands for oil drilling, and expands tax credits for carbon capture technology to benefit coal or gas-burning power plants.
"It's the greatest fossil support deal that we've ever had — you can't talk about that!" Mr. Manchin said. "Well, let me tell you one thing: We're not putting no damn windmill in the Gulf of Mexico unless we're drilling."
Headed into 2020, he predicted a closely divided Senate would be a "golden opportunity" for bipartisan deal-making, and, indeed, it was: For an institution better known for paralysis, the 117th Congress pulled off an extraordinarily productive run, with Mr. Manchin in the center of many of those deals.
They included passage of the biggest investment in clean energy in U.S. history, the largest financing of bridges since the construction of the interstate highway system, the first bipartisan gun safety legislation in a generation, a huge microchip production and scientific research bill to bolster American competitiveness with China, a major veterans health care measure, and an overhaul of the electoral system designed to prevent another Jan. 6-style attempt to overturn a presidential election.
While deeply involved in those negotiations, Mr. Manchin often was the voice of "no" within the party, demanding smaller bills and "raising hell," as he describes it, about the danger of prompting out-of-control inflation. The biggest setback he dealt to Mr. Biden's agenda was when he killed the president's sweeping "Build Back Better" domestic policy legislation, a move Mr. Manchin asserts "saved the country from going into a truly hard, hard recession."
It was ultimately reborn in a smaller form as the climate, health and tax measure and rebranded as the Inflation Reduction Act.
"I know he frustrated some of my colleagues, but I think he played an enormously positive role" in negotiations, including paring down the domestic policy bill, said Senator Mark Warner, Democrat of Virginia. "In retrospect, it was too big. It was basically trying to solve virtually every problem in a single piece of legislation."
Mr. Warner added: "Let's face it: The Fed was wrong; most economists cited by the administration were wrong; I was wrong — I didn't think inflation was going to get as bad as it did — and he was more directionally right."
Mr. Manchin concedes the current deal-making environment on Capitol Hill will be "more challenging" than in the last Congress, now that Republicans control the House. His vote is also slightly less pivotal, since Democrats have firmer control with a 51-to-49 majority rather than 50-50.
But Republicans and Democrats said Mr. Manchin will still be crucial. Senator Susan Collins of Maine, the top Republican on the Senate Appropriations Committee and an ally of Mr. Manchin's, says she hopes a group of centrists can figure out how to make deals in the current Congress, just as they did for the past two years.
"There's going to have to be a lot of give and take and negotiation in order for us to get the people's business done," Ms. Collins said. "And Joe will be front and center."
Advertisement
Mets Morning News: Port St. Lucie, here we come! – Amazin' Avenue
Filed under:
Your Tuesday morning dose of New York Mets and MLB news, notes, and links.
If you buy something from an SB Nation link, Vox Media may earn a commission. See our ethics statement.
The Mets loaded up their trucks and sent them on their merry way to Florida. Mets' Pitchers and Catchers report in 16 days, for those keeping score at home.
It's never too early to think about next offseason, and you can expect New York to be in the thick of the Shohei Ohtani sweepstakes if Steve Cohen has something to say about it.
Jacob deGrom recently told Buck Showalter that there is a 'real' reason why he left the Mets.
With David Peterson, Tylor Megill, and Joey Lucchesi, Thomas Harrigan believes the Mets have the best starting pitching depth in baseball.
Jarrett Seidler explored the Jeff McNeil extension.
Ex-Met Darren O'day announced his retirement.
Will Sammon shared some notes around the club in his Mets Notebook.
Ronny Mauricio decided to pay a young fan a special surprise visit.
Jazz Chisholm will grace the cover of MLB The Show 23.
The Marlins officially traded Richard Bleier to the Red Sox for Matt Barnes.
The Phillies designated Sam Coonrod for assignment to complete the Josh Harrison signing.
Jake Alu had a breakout year in the Nationals' minor league system, but can he keep it up
Keith Law revealed his Top Prospects for 2023.
Sarah Langs identified some players who could produce a 40-40 season in 2023.
Mike Petriello examined the impact of the Tigers bringing in the fences at Comerica Park.
Zack Greinke is back with the Royals on a one-year deal.
The Reds have inked Chad Pinder.
Brad Wilkerson has been named Assistant Hitting Coach of the Yankees.
The Guardians announced the passing of long-time fan and stadium staple John Adams, who has been banging the drum at their home games for almost half a century.
Jett (the Met) Williams landed at number 5 on the Amazin' Avenue list of Top 25 prospects for the 2023 season.
Episode 207 of From Complex to Queens continues the countdown of Top 25 Prospects for the 2023 season.
Ralph Kiner signed on to broadcast Mets games alongside Bob Murphy and Lindsay Nelson on this date in 1962, thus beginning his road towards becoming a beloved icon in the franchise's history.
* 21+ (19+ CA-ONT) (18+ NH/WY). AZ, CO, CT, IL, IN, IA, KS, LA, (select parishes), MD, MI, NH, NJ, NY, OH, OR, PA, TN, VA, WV, WY, CA-ONT only.
Eligibility restrictions apply. Terms at draftkings.com/sportsbook. Gambling problem? Call 1-800-GAMBLER. Odds & lines subject to change.
Vessel strike blamed for humpback whale's death in New Yorkt
Copyright 2023 The Associated Press. All rights reserved.
People work around the carcass of a dead whale in Lido Beach, N.Y., Tuesday, Jan. 31, 2023. The 35-foot humpback whale, that washed ashore and subsequently died, is one of several cetaceans that have been found over the past two months along the shores of New York and New Jersey. (AP Photo/Seth Wenig).
LIDO BEACH, N.Y. – A humpback whale that washed ashore on a New York beach this week was likely killed by a vessel, federal authorities said Wednesday.
A necropsy will determine the exact cause of death for the whale, a male named Luna that was more than 40 years old and had been tracked by marine biologists for decades, said officials with the National Oceanic and Atmospheric Administration.
The whale was discovered Monday morning at Lido Beach West Town Park on Long Island and was hauled up to the beach with a crane.
A necropsy team including representatives from the Atlantic Marine Conservation Society, NOAA Fisheries, the New York State Department of Environmental Conservation, the Mystic Aquarium Animal Response Program and the Marine Mammal Stranding Center assembled Tuesday and cut through the blubber to collect samples of the whale's internal organs, NOAA officials said in a statement.
The whale was likely killed by a vessel strike, the officials said, but more will be known once the results of the samples become available.
Officials said the whale's level of decomposition indicated that it had died several days before washing ashore, contradicting early reports that the animal had beached itself while it was alive.
The whale was about 41 feet (12 meters) long and weighed 29,000 pounds (13,154 kilos), the officials said.
NOAA, which is responsible for the nation's oceans and fisheries, says 19 humpback whales were stranded last year along the U.S. Atlantic coast. During the first month of this year, there have already been seven of the whales beached from Maine to Florida.
Copyright 2023 The Associated Press. All rights reserved. This material may not be published, broadcast, rewritten or redistributed without permission.