The ultimate guide to Inman Connect New York 2023
No matter what you'll remember or forget to bring, Inman Connect New York 2023 is poised to be an unforgettable experience for the 2,000 attendees, 175 speakers and 50 vendors who will fill the Hilton New York Midtown hotel from Jan. 24 to 26.
There's plenty to see, learn and do during your time in New York City, and we're here to help you have the ultimate experience whether it's your first or tenth time at ICNY. Use the guide below to expertly navigate conference sessions, learning labs and vendor areas and even plan time for fun in Manhattan.
Welcome to ICNY! You bravely navigated airport security lines and layovers, survived the rollercoaster of taking a taxi from LaGuardia, JFK or Newark into Manhattan, met the Inman crew at Monday night's Welcome Happy Hour, and now you're ready to dive into the first day of the conference.
Get started: If you're an early riser, head down to Sutton Hall (second floor) and the Grand Ballroom (third floor) at 8 a.m. to meet one of the 50 vendors sharing cutting-edge tech tools and platforms that make listing, marketing, transaction management and closings a breeze.
While you're there, pick up a complimentary cup of joe from The Listings Lab.
General session: The conference officially kicks off at 9 a.m. with two hours of dynamic speakers gracing the Grand Ballroom stage. Although we hope you'll stick around for both hours, we understand the pull of carefully planned brunch business meetings or other networking opportunities.
With that in mind, here are three general session segments you can't afford to miss:
Take a break: Get some expert social media training from Inman Global Head of Community Laura Monroe, The Agency agent Matt Lionetti and Engel & Völkers agent Karen Stone. The trio will explain how to create content that converts while offering a few laughs in the process.
Get to the nitty-gritty with team, agent and broker tracks: You've spent the morning learning about the overarching trends ruling the industry. Now it's time to learn how those trends specifically impact your role with power hours — four mini-general sessions featuring four 15-minute chats.
If you missed the power hours, no worries. The afternoon will be filled with several other specialized tracks, including The Future of Finance (1 to 2 p.m. in the Grand Ballroom), Broker Connect (2 to 4 p.m. in the Trianon Ballroom) and Tech & Data Connect (2 to 4 p.m. in the Grand Ballrooms).
These tracks feature speakers, such as OJO Chief Real Estate Officer Chris Heller, PLACE Head of Industry Vija Williams, Compass Chief Evangelist Leonard Steinberg, Pacaso co-founder and CEO Austin Allison and Council of Multiple Listing Services CEO Denee Evans.
Closing time: Whew! You've had a packed first day at ICNY. End the day at the Booth Bar Crawl in Sutton Hall from 4:30 to 5:30 p.m. Meet fellow attendees and our featured vendors while enjoying light snacks and expertly-mixed cocktails — trust me, they're good.
The after-party: Although you love Inman and wish you could stay glued to your conference seat all day long, we'd be remiss not to let you experience the unique sights and sounds of New York City.
The Hilton New York Hotel is near the legendary Rockefeller Center, Radio City Music Hall, St. Patrick's Cathedral and Museum of Modern Art. You can also make your way over to Times Square with a quick taxi ride.
If you're feeling fancy, Ocean Prime, Mastro's Steakhouse, Nusr-Et Steakhouse and Le Bernardin are a stone's throw from the hotel. However, if you'd like a true NYC street-food experience, hit up one of The Halal Guys' famous yellow stalls on the corner of 53rd Street and Sixth Avenue. You won't regret it.
Get started: How was that after-party on Tuesday? Rough? After taking a couple of Tylenol and regaining your energy with a quick workout, begin your day with us once again in Sutton Hall with complimentary coffee. If you're a latte aficionado or need something stronger than a basic brew, there's a Starbucks across the street from the hotel.
Don't forget to swing by our registration desk in the Rendezvous Trianon Hall to pick up a replacement badge, chat with attendees and meet some of our events team (they're the best!).
General session: You know what time it is. Get to the Grand Ballroom bright and early to grab a seat and prepare for another day of dynamic speakers. As with yesterday, it's best to stick around for the two hours — after all, you might miss out on a speaker doing a killer crane kick or spilling the beans on a new project.
However, if that's not possible, here are a few sessions you must see:
Take a break: Meet The Agency founder Mauricio Umansky and his daughters/business partners Alexia Umansky and Farrah Brittany in a special meet and greet in Sutton Hall. Take a few pictures and maybe get a question or two answered.
Get to the nitty-gritty with breakout sessions: Much like Tuesday, Wednesday afternoon will be filled with a plethora of sessions geared toward brokers, agents, team leaders and tech wonks.
C-Suite leaders will have the opportunity to attend the invite-only CEO Connect in the Trianon Ballroom from 11 a.m. to 3 p.m., and some of the fiercest women leaders will take over Sutton Hall for a special WomanUP! session from 12:15 to 1 p.m.
Here are a few sessions to catch:
Sidenote: If you're worried about missing out on sessions, don't. Luckily, your ticket includes access to playbacks of both general sessions and the handful of sessions and specialized tracks that will also be live-streamed for our virtual ticket holders.
Closing time: Look at you! You've breezed through another day of ICNY. As a reward, come to Cocktails at Connect from 4:30 to 5:30 p.m. in Sutton Hall. Remember those cocktails from yesterday I told you about? There are even more. Just take it easy so you can enjoy the after-party too.
In addition to Cocktails at Connect, the lovely leaders of WomanUP! are hosting their own cocktail hour at Bridges Bar inside the Hilton New York Midtown from 5:30 to 7 p.m.
The after-party: The evening isn't done yet! There's still plenty more to see and do during your last full day in New York City. Manhattan has plenty to offer with access to Broadway and off-Broadway shows, a plethora of restaurants and other tourist attractions.
However, consider giving the other boroughs and neighborhoods some love with these events:
Get started: We're nearing the home plate! In a few short hours, we'll sadly be saying goodbye and setting our sights on Inman Connect Las Vegas (you'll be smart to buy your ICLV tickets now for a pretty sweet discount).
Take your last trip to the registration desk, around the vendor hall and grab — you should know this by now — a complimentary cup of coffee from The Listings Lab.
General session: Since today's agenda is only two hours long, there should be no reason to leave early unless you're part of the crew of Aussies who regularly come to ICNY and have a ridiculously long flight home (G'bye mates!).
But since we're softies, we'll still give you the cheat sheet to the best sessions to catch on Thursday:
You've made it — Take the afternoon to do some networking, sightseeing, or prepare for your flight home. Although Inman Connect New York is over, you can continue the journey by watching replays of conference sessions and making Inman part of your daily reading routine. You're reading Inman, right? Right? Good.
Two Killed in Stampede After Rochester Concert
Two women were killed when attendees of a GloRilla concert in Rochester, New York, rushed for the exits following the show Sunday night, police said.
One woman, 33-year-old Rhondesia Belton, was pronounced dead at a local hospital, police said early Monday morning. The second victim, identified only as a 35-year-old woman, died from her injuries later Monday.
Another 35-year-old woman remained in critical condition Monday night, police said.
Police initially said officers had responded to a report of gunfire at the Main Street Armory shortly after the concert ended around 11 p.m. and that "the injuries appear to be as a result of a large crowd pushing towards the exits following accounts of individuals hearing what they believed to be gunshots.
Later Monday morning, however, the Rochester Police Department said that "there are some reports that shots were heard, causing the crowd to panic, but that has not been confirmed."
Police said they are still investigating the possible cause of the crowd surge, "including crowd size, shots fired, pepper spray, and more."
Seven more people were brought in private vehicles to area hospitals with non-life-threatening injuries, police said.
Alec Richardson, of CBS Rochester affiliate WROC-TV tweeted that he "saw a firefighter performing CPR, presumably on a victim on scene.
About an hour after the incident, GloRilla, a Grammy-nominated rapper from Memphis, tweeted that she'd just heard what happened and that she was "praying everybody is ok."
After learning of the second death, she tweeted that she was "devastated & heartbroken over the tragic deaths that happened after Sunday's show. My fans mean the world to me praying for their families & for a speedy recovery of everyone affected."
Mayor Malik Evans called the fatal stampede "totally unacceptable" and promised a thorough investigation into whether venue operators had the necessary safety measures in place for a large crowd.
"We are going to hold people accountable for what happened last night, period," Evans said, though he cautioned that it was too early in the investigation to assign blame. "I intend to get to the bottom of this.
The armory hosted sporting events throughout the 20th century before being shut down for several years starting in the late 1990s, partly because it lacked a fire suppression system at the time.
It reopened after extensive renovations and began hosting concerts and other events in 2005. Smith said its main arena is meant to have a capacity of about 5,000 people, and the city fire marshal will work with police to determine whether that capacity was exceeded Sunday.
City officials said the facility underwent a physical fire safety inspection in December and was compliant with fire codes.
The venue's next scheduled show, a Saturday performance by the rapper A Boogie Wit Da Hoodie, has been canceled.
"If you go to a concert, you do not expect to be trampled," Evans said. "Your loved ones expect you to be able to come home and talk about the experience that you had at that great concert.
Dwayne 'The Rock' Johnson Picks Up $9.5 Million Georgia Farm
The sprawling equestrian estate has an eight-bedroom mansion and a 150-year-old caretaker's cottage.
The Rock has rolled to the Georgia countryside.
An entity tied to actor Dwayne "The Rock" Johnson has snapped up a historic 46-acre estate outside of Atlanta.
A Georgia-based company linked to Mr. Johnson's business managers in Los Angeles purchased the equestrian home in the bucolic small town of Powder Springs for roughly $9.5 million, according to public property records. Mr. Johnson, 47, a former professional wrestler who has since built a career as an actor and producer, could not be reached for comment.
More: U.S. Ambassador to Denmark Sells Bel Air Villa for $19.5 Million
At the center of the sprawling, multi-parcel property is a 14,000-square-foot megamansion with eight bedrooms—plenty of space for Mr. Johnson's family of five.
The main house was built in 2002 and features stone fireplaces, a custom wine cellar and a backyard with a freeform, salt-water pool and cabana, according to the listing with agent Jeff DeJarnett of Harry Norman Realtors. Mr. DeJarnett declined to comment on the sale.
The elegant home draws on French country inspiration, including partial brick and stone cladding on the exterior, large casement windows and rustic interiors with exposed wood and stone throughout, images show. Amenities also include a cozy, wood-paneled library with stained glass.
The Johnsons also get a fully outfitted horse farm with a 12-stall barn and riding arena with a viewing deck. Among its oldest charms is an original 150-year-old farm house, which now serves as a caretaker's cottage, according to the listing.
From Penta: Fashion Icon Marc Jacobs To Sell His Personal Collection of Art and Design
The sale comes a few months after the "Fast and the Furious" star married his longtime girlfriend, Lauren Hashian, in Hawaii.
The deal also comes on the heels of an announcement in September that Mr. Johnson and Dany Garcia, his business partner and ex-wife, plan to host an inaugural fitness conference, called Atheticon, in Atlanta in October 2020.
These Are The Most Dangerous Airports Ever Built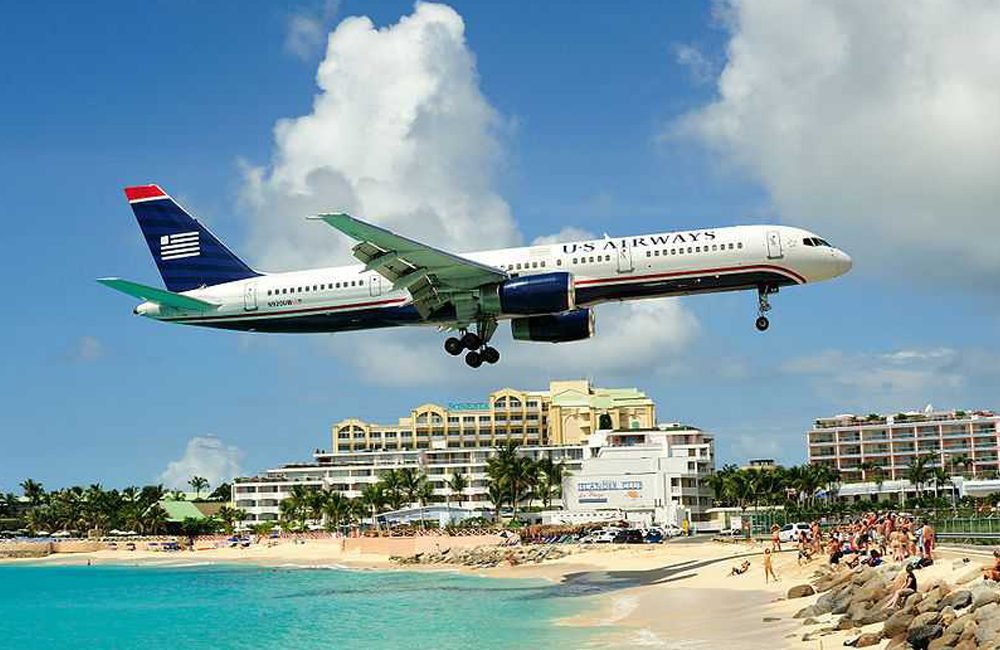 Traveling can be stressful, no matter who you are. Whether you're traveling for leisure, work, or anything else, there are a ton of different tasks you have to accomplish before you can take flight. Most of these tasks, from packing your suitcases to managing connecting flights, are exhaustive.
But consider this, sometimes the airport itself is challenging, especially for those who work there. Even the most experienced pilots have run into problems trying to take off the runway from the airports on this list. This list details the most alarming airports in the world, with dangers ranging from dangerously too-short runways to major construction fails.
1. Courchevel Airport – France
Year of construction: 1962
Risk factors: Location of runway
This airport, located in the middle of the French Alps, is used to access the Courchevel ski resort. It is located 6,588 feet above sea level, and its runway measures just 1,761 feet. This short runway prevents pilots from last-minute, necessary maneuvering.
Furthermore, Courchevel airport has no lighting, which makes landing considerably difficult on foggy, rainy, or snowy days. To make matters worse, it is built between the snowy mountains, which causes a problem for planes trying to approach and descend.
2. Barra International Airport – Scotland
Year of construction: 1936
Risk factors: Track on the beach
This airport, which is located north of the island of Barra, is the only one in the world where takeoffs and landings take place on the beach. This, first of all, means that all air operations are easily affected by the tide.
The beach that serves as the airstrip is open to the public, so people should check if the airport is in operation before visiting. The beach at this airport is also often visited by seals, and the airport staff frequently have to escort the seals back to the sea to avoid accidents.
3. Princess Juliana International Airport – Saint Martin
Year of construction: 1942
Risk factors: Closeness of airplanes
This busy airport has a strange feature, where its planes fly barely 82 feet above the beach. In fact, the aircraft passes so close to the ground that the local government has warned tourists to stay at a safe distance during take-off and landing.
This is due to the possibility of a too-close sightseer being thrown into the sea or sucked into a turbine. During its years of operation, this airport has been the site of four accidents that have had devastating consequences.
4. Male International Airport – Maldives
Year of construction: 1960
Risk factors: Runway size
The Maldives Islands airport is located on the island of Hulhule. Its main problem is the size of its runway, which is so small that it occupies the entire length of the island. Any miscalculation can easily lead the plane to the sea.
Another unusual feature of this busy airport is that, once its planes manage to land, passengers usually have to take speedboats to get to where they are going in the Maldives. Otherwise, they'll be stuck waiting for hours.
5. Kai Tak Airport – Hong Kong
Year of construction: 1925
Risk factors: Surrounded by buildings
Landing at Kai Tak Airport was challenging even for skilled pilots. The airport was surrounded by tall buildings, and airplanes passed so close to the buildings that passengers felt they could peek into the offices. To make matters worse, the track was built on the sea, and it was far too narrow and short.
It is not difficult to imagine why passengers referred to this airport as "Heart Attack Airport." Kai Tak was the site of no less than fifteen accidents before it was shut down in 1998 because of how dangerous it was.
6. Cristiano Ronaldo Airport – Madeira, Portugal
Year of construction: 1973
Risk factors: Track built on the sea
Some describe Cristiano Ronaldo Airport as an engineering marvel. For others, it is a danger. The island of Madeira is so small that the runway of his airport had to be expanded over the sea. For this expansion, 180 pillars were built that hold the track over the water.
The strong winds on the island, as well as the narrow airstrip, make the maneuvers that the pilots carry out very complex. In fact, all those in charge of taking off or landing a plane on the island of Madeira must receive special training.
7. Congonhas Airport – São Paulo, Brazil
Year of construction: 1936
Risk factors: Closeness of the airplanes
The main problem with the Congonhas airport is that, being as it's located in a residential area in the center of São Paulo, it is surrounded by buildings. This causes pilots to have to be particularly careful when maneuvering during takeoff and landing.
As if that were not enough, its track is considered one of the slipperiest in existence, due to the inefficient drainage systems in the area. Unfortunately, this airport has seen several accidents. One of them occurred in 2007, and it caused the authorities to decide to expan
8. Juancho E. Yrausquin Airport – Saba Island
Year of construction: 1963
Risk factors: Shortest runway in the world
This airport is known as the most dangerous in existence, since it has the shortest runway in the world. It's just 1,300 feet! In addition to the fact that its length makes takeoff and landing very difficult, the airport is located on the edge of a cliff.
This means that any mistake in the calculations could easily lead an aircraft into the sea or onto the rocks below the cliff. For this reason, jets cannot take off or land at this airport. Propeller planes, on the other hand, can make use of the facilities without major problems.
9. Gibraltar Airport – United Kingdom
Year of construction: 1939
Risk factors: Track intersects the road
Gibraltar Airport is considered the most dangerous in Europe after Madeira. The reason? It is the only one in the world whose runway meets the road, and at the same level! This is because the airport made maximum use of its minimal space.
So, when a plane is close, highway traffic stops to give way to the aircraft. This means that any traffic accident could affect the takeoff or landing of the planes. At this airport, what was saved in space is lost in security.
10. Gustaf III Airport – San Bartolomé
Year of construction: 1984
Risk factors: Short runway, near the beach
This airport's strange feature is that it only provides its services from 8:00 a.m. to 6:00 p.m. In addition, it can only be used by small airplanes of no more than 20 passengers, since its location would considerably complicate the take-off and landing of larger aircrafts.
The track, only 2,133 feet long, is located between a hill and a beach. This means that pilots must be very careful when they maneuver. And, tourists on the beach should also be careful; there are even signs that warn them not to sunbathe near the base of the track.
11. Scíathos International Airport – Greece
Year of construction: 1972
Risk factors: Location, short runway
Skiathos Airport in Greece has the shortest runway in Europe. In addition, the uneven terrain of the island means that the airport was built over the sea. In fact, the airstrip links the island of Skiathos with that of Lazareta.
This airport does not accept all types of airplanes, since the largest planes need more space to take off and land. Another quirk of this airport is how close it is to the highway. Many motorists can easily see planes taking off at a short (and somewhat terrifying) distance.
12. Toncontin International Airport – Honduras
Year of construction: 1921
Risk factors: Closeness to the mountains and road
Toncontin Airport is so dangerous that commercial airline pilots who operate there have to undergo special training for takeoffs and landings. The main risk involved is that Toncontin's track, in addition to being very short, is too close to the mountains and the road.
Sadly, there have been at least ten serious accidents at Toncontin. The best known of them, which happened in 2008, occurred when a plane failed to stop after landing. The aircraft went off the runway and fell onto the road, colliding with several cars.
13. Paro International Airport – Bhutan
Year of construction: 1968
Risk factors: Closeness to the mountain, weather conditions
Paro International Airport is so dangerous that there are fewer than 24 pilots who are trained and authorized to use it. This airport only operates from sunrise to sunset, and its main danger is that it is surrounded by the Himalayan Mountains.
In addition, due to the weather conditions of the area, the runway (which is very short, by the way), is only visible to the pilots moments before they land on the ground. Before landing, pilots also have to watch out for the utility poles and houses that surround the landing zone.
14. Tenzing-Hillary Airport – Nepal
Year of construction: 1964
Risk factors: Altitude
This small airport is popular because it is located at the same place where the vast majority of people begin their ascent to Everest Base Camp. Very often, fog, winds, and poor visibility end up delaying flights or even causing the airport to close for the day.
One of the main risks posed by this airport is that it is surrounded by mountains, and the altitude at which the airport is located is so high that aircraft engines sometimes have difficulty obtaining the oxygen they need during take-off acceleration.
15. Gisborne Airport – New Zealand
Year of construction: 1960
Risk factors: Track intersects with train tracks
The operations carried out at this airport look like something out of an action movie, as the main runway crosses the tracks of a working train. This means that all takeoffs and landings must be carefully coordinated with train schedules.