William G. Hamilton, Doctor to Dancers, Is Dead at 90
Invited by George Balanchine to be the in-house orthopedic surgeon at City Ballet in New York, he laid the groundwork for the field of dance medicine.
Send any friend a story
As a subscriber, you have 10 gift articles to give each month. Anyone can read what you share.
By Clay Risen
Dr. William G. Hamilton, who as the attending orthopedic surgeon for New York City Ballet spent more than 40 years fixing bone spurs, tendinitis, bursitis, torn ligaments and what he called "the Nutcracker Fracture," died on March 29 at his home in Croton-on-Hudson, N.Y. He was 90.
His wife, Linda Hamilton, said the cause was congestive heart failure.
Ballet dancers may be the "athletes of God," as Albert Einstein supposedly said. But until Dr. Hamilton came along, they were treated more like ethereal beings than physical bodies that could crack, tear and otherwise fall apart under the extreme and often unnatural pressures of repeated pliés and grand jetés.
In fact, it was George Balanchine, the choreographer who famously insisted that his dancers stoically work through their stubbed toes and sprained ankles, who asked Dr. Hamilton to become the first in-house doctor for the 80-plus members of New York City Ballet, in 1972.
Dr. Hamilton immediately said yes, though he knew nothing about ballet. He immersed himself in the art, attending weekend classes and becoming close to Balanchine and, later, the dancer and choreographer Mikhail Baryshnikov, who in 1980 hired him to be the attending surgeon for American Ballet Theater as well.
A courtly 6-foot-3 Southerner, Dr. Hamilton became a favorite and even revered figure around Lincoln Center. He had a disarming bedside manner that put young dancers at ease when they came to him worried that a sprained ankle might end their career.
He kept a ballet barre in his examining room, and he was renowned for catching early signs of chronic, potentially debilitating problems just by asking a dancer to go through a few routine motions.
Early on, he realized that while dancers suffered the same kinds of injuries athletes did, they got them in obscure ways and places. He saw, for example, that the rapid movements required by Balanchine's ballets came with the risk of foot and ankle injury, while the leaps and bounds more common under Mr. Baryshnikov were more threatening to the hips and knees.
"From the very beginning, I learned that although they get the same injuries as athletes, dancers are artists first," he told Dance Magazine in 2011.
When Dr. Hamilton started out, in the early 1970s, there was no such thing as dance medicine, and indeed foot and ankle injuries were a largely understudied field of orthopedic medicine.
He built up both fields through lectures and journal articles in which he diagnosed previously understudied injuries; he was among the first to describe the Nutcracker Fracture, for example, which involves multiple breaks in the cuboid bone in the foot. He was president of the American Orthopaedic Foot and Ankle Society from 1992 to 1993, and today every sizable dance company in the country has an orthopedic surgeon on call.
"Bill was the king of orthopedic dance medicine," Glenn Pfeffer, the co-director of the Cedars-Sinai/USC Glorya Kaufman Dance Medicine Center in Los Angeles, said in a phone interview.
Dr. Hamilton continued to perform surgery until he was 81 and consulted until a few years ago, long after most physicians would have hung up their scalpels.
"I would have retired a long time ago if it wasn't for the dancers," he said in a 2016 interview with the magazine Princeton Alumni Weekly. "It's very rewarding because they love what they do. They just want to dance; they wouldn't want to do anything else."
William Garnett Hamilton did not set out to be a Manhattan doctor, let alone a balletomane. He was born on Jan. 11, 1932, in Altus, Okla., where his father, Milton Hamilton, was a salesman and his mother, Elizabeth (Garnett) Hamilton, was a homemaker.
The family moved to Shreveport, La., when he was very young. After his parents divorced, his mother remarried and moved to Portage, Wis., where her new husband owned a plastics manufacturing company.
William graduated from Princeton in 1954 with a degree in engineering, and after two years in the Army he joined his stepfather's business in Wisconsin. He married and had a child; by his mid-20s, he said, he could see his entire life unfolding before him. He didn't like what he saw.
Against his parents' wishes that he stay to run the family company, he applied to medical school. He was accepted at Columbia, one of the few schools that took older students (he was 28 when he enrolled). He decided to focus on orthopedics — a field that he said was not unlike engineering, with muscles and joints standing in for ropes and levers. He graduated in 1964 and, after several years of residency, opened a practice in Midtown Manhattan in 1969.
In addition to his work with the two ballet companies, he provided the same services to the companies' affiliated schools, the School of American Ballet and the Jacqueline Kennedy Onassis School, and he consulted for numerous Broadway shows and New York sports teams, including the Knicks and the Yankees.
His first two marriages ended in divorce. He met his future third wife, Linda Homek, when she was a dancer with New York City Ballet. She later received a doctorate in psychology from Adelphi University, on Long Island. In 2000, she and Dr. Hamilton created a multidisciplinary wellness team, including a dietitian and a massage therapist, to care for the company's dancers, a model that has since been adopted by other ballet companies.
Along with his wife, Dr. Hamilton is survived by his sister, Ann Kirk; his sons, William Jr. and Lewis; and three grandchildren.
A recession might be coming. Here's what it could look like
Slowcession? Richcession? Or just recession?
Whether in the supermarket aisle, or the corporate suite, a lot of people are expecting a recession – even if there's no certainty there will be one at all.
Survey after survey shows fears of recession are high. It's easy to see why.
The Federal Reserve is increasing interest rates in the most aggressive fashion since the early 1980s as it races to bring down inflation. And a recession is often the consequence when the central bank starts raising borrowing costs.
The prospect of recession is certainly scary. But even if the U.S. is headed for one, it's worth keeping in mind that no two recessions are alike.
A recession could be blip-ish, like the short, pandemic-induced one in 2020, or more like the economic tsunami that followed the 2008 housing meltdown.
So, from recession with a small r to the so-called soft landing, here are some of the current predictions of what kind of economic slowdown the U.S. could be facing.
Brad Inman at Connect New York: 2023 is a year for metamorphosis
The suspect in the overnight fatal shooting that left three people dead in Yakima, Washington, has died after taking his own life, the Yakima Police Chief said Tuesday.
Police were pointed to the suspect's location after getting a 911 call from a woman who had lent the suspect her phone near a Target store in Yakima, Police Chief Matt Murray said in a Tuesday evening news conference.
Officers responded immediately and, within minutes, arrived at the scene, according to the chief.
The suspect apparently shot and killed himself and that was prior to officers' arrival. There were officers who heard the shots, but no one saw him actually do that," Murray said.
Officials tried to save his life but he was later pronounced dead, according to Murray, who had earlier Tuesday indicated that the suspect had been taken into custody.
The chief said officials will need to go through the formal process of identifying the suspect, "but I can say with pretty good confidence that we believe that this is the person who was involved."
The police department had earlier identified the "presumed homicide suspect" as Jarid Haddock, 21, a Yakima County resident, according to a Facebook post.
Police earlier had a house surrounded where they thought the suspect was when they learned he was in the area of a Target store in Yakima, the chief said.
There, the suspect asked a woman to borrow her phone and called his mom and "made several incriminating statements including 'I killed those people,'" Police Chief Matt Murray said.
The woman heard the man say he was going to kill himself and called 911, according to Murray.
"I listened to that call. It's pretty harrowing, and I have to really thank her again because she was very courageous in getting us there," the chief said.
Murray said responding officers founding the man near a marijuana retailer, but did not provide information on whether he was inside or outside the business where he allegedly shot himself.
The suspect had "a large amount of ammunition" and a firearm when officers found him, the chief said.
Murray told Tuesday that the suspect pulled into the ARCO/ampm gas station and "tried to get into the lobby," but found the doors were locked.
"He then walked across the street to the Circle K," Murray said. "As he's walking into the store he pulls out his gun and there are two people getting food and he shoots them." Both people died, Murray said.
The suspect then walked out of the store and shot another person, who also died.
Murray said the suspect went back across the street to the ARCO/ampm gas station and shot into a car and drove off.
"We later learned it was his car and that he shot the window of that car in order to get inside because he had locked his keys in the car," Murray said.
The motive behind the shooting remains under investigation but Murray said the attack appeared "very much random."
"There was no interaction between him and people," the chief said. "They were just sitting there getting food and got surprised by this person who came in and … literally as he was opening the door, he started shooting these people."
Justin Bumbalogh, who was working at Elite Towing and Recovery, next door to the Circle K, said he was half asleep when he heard gunshots. Police said the shooting occurred around 3:30 a.m. local time.
COVID 2023: Do We Know Where We're Going?—Virtual Lecture, Feb. 7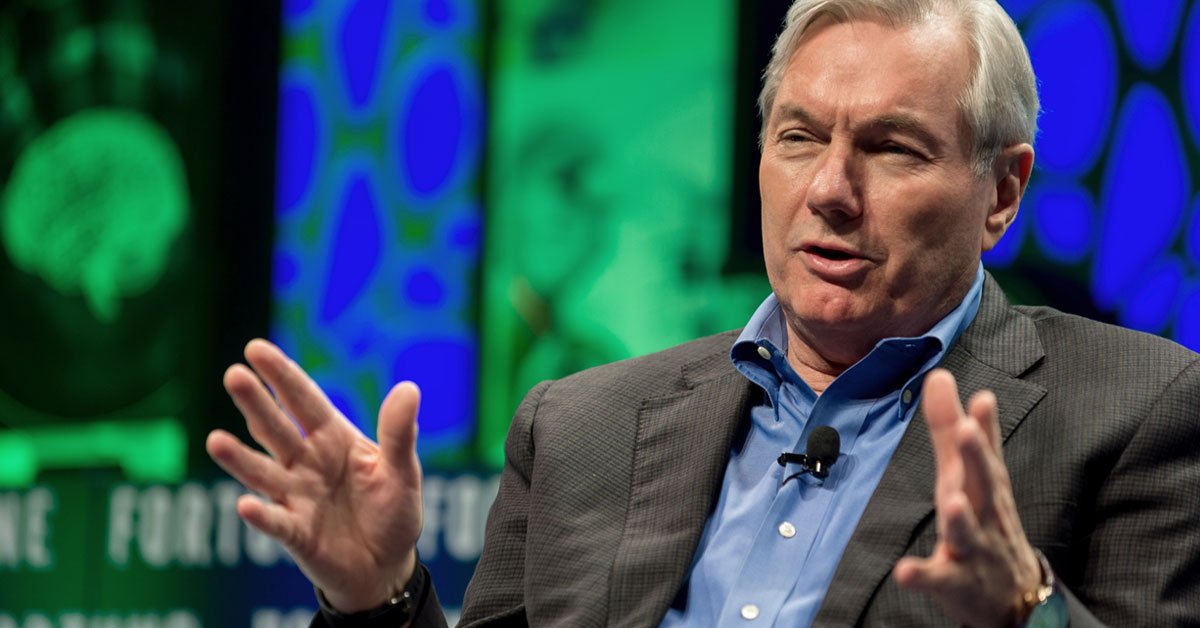 Michael Osterholm, author of the New York Times Best-Selling "Deadliest Enemy: Our War Against Killer Germs", on the challenges of the mutating virus.
University of Minnesota Professor Michael T. Osterholm will deliver "The COVID-19 Pandemic: Do We Know Where We Are Going?"—the first Spring 2023 Bentson Dean's Lecture—on Tues., Feb. 7, at 6:00 p.m. EST.
Osterholm, McKnight Presidential Endowed Chair in Public Health and the director of the Center for Infectious Disease Research and Policy at the University of Minnesota, will discuss what the ever-mutating COVID virus will mean for the future of the pandemic: When will it end? Will it end? Will there be a return to "normal"? The talk will focus on current mutations and data as of February 2023.
Osterholm, appointed to then-President-elect Joe Biden's Transition COVID-19 Advisory Board in November 2020, is the author of the New York Times best-selling 2017 book, Deadliest Enemy: Our War Against Killer Germs, which details the most pressing infectious disease threats of our day and lays out a nine-point strategy on how to address them.
Osterholm served for 24 years (1975-1999) in various roles at the Minnesota Department of Health, including the last 15 as state epidemiologist. He has led numerous investigations of outbreaks of international importance, including foodborne diseases, the association of tampons and toxic shock syndrome, and hepatitis B and HIV in healthcare settings. Osterholm was also the principal investigator and director of the National Institutes of Health-supported Minnesota Center of Excellence for Influenza Research and Surveillance (2007-2014) and chair of the Executive Committee of the Centers of Excellence Influenza Research and Surveillance network.
An RSVP is required by visiting the event page. Zoom coordinates will be sent to attendees the day of the event. For more information, email cas.events@nyu.edu or call 212.998.8100.
Free and open to the public, the Bentson Lectures have, for nearly 10 years, showcased current and visiting faculty and other guests. Funded by the Bentson Family Foundation, recent Bentson Lecturers have included NYU Professor Kwame Anthony Appiah, the New York Times "Ethicist" columnist, on "The Ethics of Work"; NYU Anthropology Professor Rayna Rapp on "The Implications of the Growing role of Genetic Testing"; Karen Adolph, professor of psychology and neuroscience at NYU, on early childhood development in her lecture "Learning to Move and Moving to Learn"; and Brooke Kroeger, an NYU journalism professor emeritus, on "What We Can Learn about Allyship Today from 'Suffragents'."